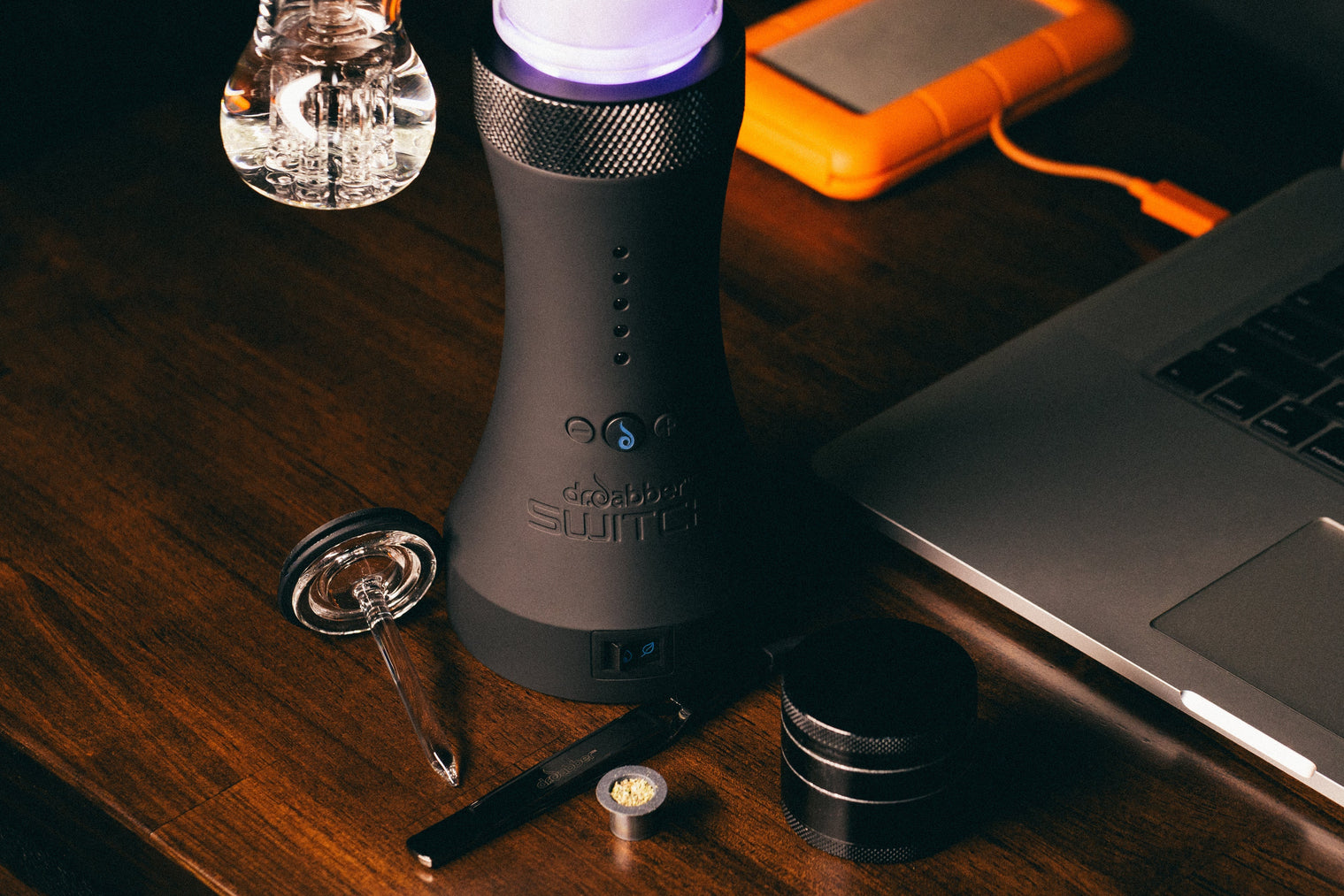 Dr. Dabber has come a long way since starting in 2013 and many of you have followed us on our journey since day one, so we we've put together a list of 10 things you probably didn't know about us. Keep reading if you want to learn more!
Dr. Dabber has come a long way since starting in 2013 and many of you have followed us on our journey since day one, so we we've put together a list of 10 things you probably didn't know about us. Keep reading if you want to learn more!
1. We started Dr. Dabber out of a garage with only two people in 2013.
We've come a long way since 2013, but when Dr. Dabber first began, we were just two guys with a vision, picking and packing orders out of a garage in Florida. We went from diligently packing up our 10-15 orders per day and driving them to the post office, working up to the point where we were filling up the garage, and no longer had enough room to hold our inventory. Within another 18 months, we had outgrown the facility we moved into. That's when we realized Dr. Dabber was going to be something big, and decided to move to Vegas.

2. Our headquarters are in Las Vegas!
Originally based out of Florida, we moved to Las Vegas, Nevada in 2016 and have been operating here ever since! We chose to move to Nevada due to the state's cannabis legislation, and it's proximity to our customers. Nevada legalized marijuana in 2017 and since then, we've seen tons of dispensaries and lounges pop up nearby. In recent years, even more legislation has passed and it's awesome to see other states jumping on the bandwagon.

3. We coined the term "eRig".
Dr. Dabber initially began as a vape pen company when we launched the Ghost in 2013, then the Light in 2014, but in 2015 we decided it was time to bring something totally new to the market, releasing the original Boost (the predecessor to the Boost: Black Edition). At the time, the Boost was the very first electronic rig on the market. In creating the very first electronic rig, we coined the term "eRig".

4. We actually use our products, and we use them at work!
It's true! As part of the onboarding process, all Dr. Dabber employees receive a goodie bag filled with every single one of our products. Nothing helps the learning process more than hands-on experience, right? Unlike traditional companies, we encourage cannabis use in the workspace - we believe it enhances creativity, helps reduce stress, and promotes a healthy and happy work culture. Most of us are regular cannabis users, as you would probably imagine, and we love our products just as much as you all do! It's not uncommon to see a SWITCH on someone's desk, and we even have a dab lounge in the back for lunch breaks and afternoon smoke seshes.

5. We've racked up 12 Cannabis Cup Awards!
In 2014, we attended our very first Cannabis Cup, back when all we had were our Ghost and Light vape pens, along with a few accessories. Since then, we have accrued a whopping 12 Cannabis Cup Awards, placing 1st, 2nd, and 3rd in the categories "Best Product", "Best Vaporizer" and "Best Glass" for the Dr. Dabber SWITCH, Aurora, and more. We look forward to attending Cannabis Cups each year and interacting with all of you! Next time you're at a Cannabis Cup, come say high and try the SWITCH!

6. Our products are in dispensaries all over the world.
Although we sell directly from our online store, www.drdabber.com, we are also available in head shops and dispensaries internationally! While most of our consumers are from the US, we love seeing our products being used all over the world. Looking for a head shop nearby that carries Dr. Dabber products? You can always check our store locator on our website for a location near you!

7. We have a very competitive affiliate program.
This is probably one of the questions we get asked most often about. We are always looking for REAL people with REAL experience and interest in our products to become brand ambassadors. As a company who strives for excellent customer service, we encourage honest reviews! Anyone can apply to our affiliate program, and it literally takes less than 30 seconds to apply. We usually review all applicants within 48 hours.
When you become a Dr. Dabber Affiliate, you are given a unique discount code for your friends and followers. When people use your discount code at checkout, you'll receive commission on each order! Our affiliates get first access to news about product launches, upcoming sales, and tons of custom creative assets to help promote themselves! If you're interested in becoming a Dr. Dabber affiliate, apply here!

8. You can put a SWITCH on a payment plan!
We understand the importance of flexible payment options, which is why we partnered with Sezzle! Sezzle allows for 4 easy payments, broken up over 6 weeks - available with any of our products. Oh, and did we mention, it's INTEREST FREE?! So yeah, if you want the SWITCH, but can't wait until next week's paycheck, just choose Sezzle at checkout.

9. We do all our own engineering, design, and development in-house!
It has taken us years to find and build the perfect team to help bring the vaporizers you all know and love, to life. We have some of the most talented engineers and designers in the industry in-house, so we do not need to rely on remote engineers at a manufacturing plant in another country like most companies do. We have full control over every part of our design process and WE are dabbers. Every feature and material is carefully thought out by people who dab on a daily basis. We honestly think that's what separates us from the rest.

10. We were the first to bring a vaporizer to the market that used induction heating.
Induction heating is super cool. In basic terms, it's the use of magnetic energy to transfer heat. The reason we chose induction heating for the SWITCH was very simple. It was the only plausible way to seal the electronics off from the heating element. In order to build a vaporizer that is going to last years of daily use, we needed to make this happen, and induction heating - the use of magnetic energy to transfer heat - was the best way to do this. What we didn't realize at the time, were the other massive benefits that would come from the use of induction heating. Induction heating is the reason for the SWITCH's ridiculously long battery life, rapid heat up time, and allows the user to save on the product they're using, whether its flower or concentrate.
The patent-pending induction heating technology inside the SWITCH allows the device to heat to target temperature in an incredibly short amount of time. We're talking an average of four seconds (depending on selected temperature). This sort of speed is simply not possible with traditional convection and conduction vaporizers. On top of that, the induction heating setup allows for the electronics to be completely sealed off from the heating element, meaning absolutely no possibility of mechanical failure due to leakage. You can literally pour water into the heating element of the SWITCH and press the button and it would simply bring the water inside the dish to a boil.