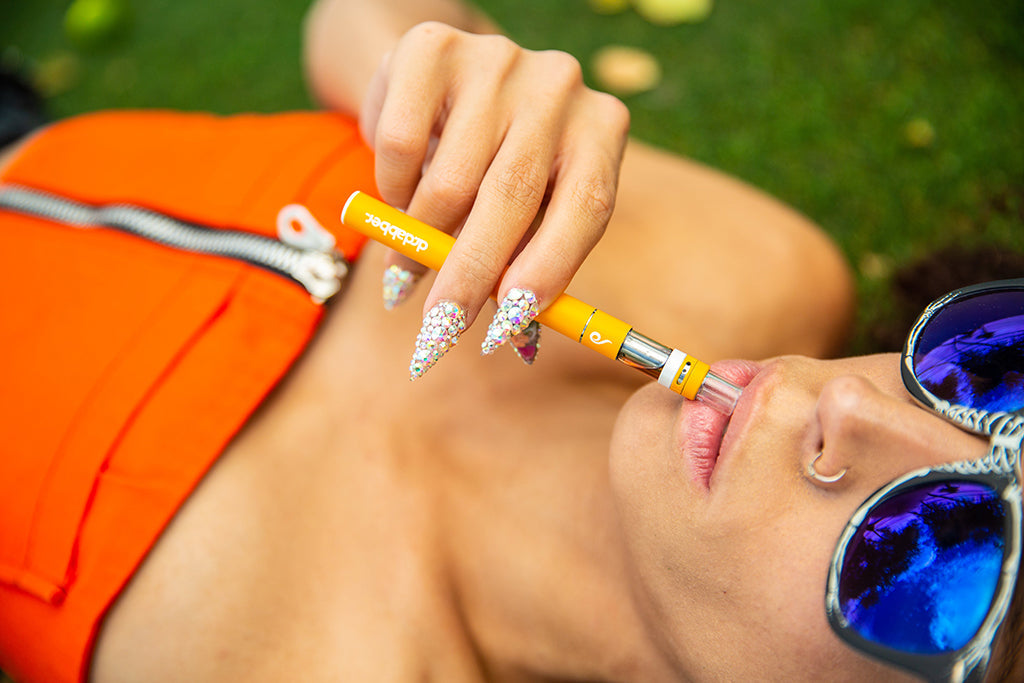 This January, we're toasting to National CBD Month. National CBD Month is a time to acknowledge the accomplishments of the CBD movement as well as raise awareness and educate people about all things CBD. So, what's it all about? Why is CBD celebrated in the first place? Let's chat.
January's all about ringing in the New Year, and at Dr. Dabber we're always down for a celebration. But did you know it also marks a very important month in the realm of cannabis? This January, we're toasting to the second annual National CBD Month. National CBD Month is a time to acknowledge the accomplishments of the CBD movement as well as raise awareness and educate people about all things CBD. So, what's it all about? Why is CBD celebrated in the first place? Let's chat.
What is CBD anyway?
The cannabis plant is full of various chemical compounds known as cannabinoids. As folks who love to dabble in concentrates, we're probably all familiar with tetrahydrocannabinol, more commonly known as THC Cannabidiol, or CBD, is one of THC's sister compounds and is also the cannabis plant's second most concentrated cannabinoid. Unlike THC, CBD likes to hang on the chill side and is non-psychoactive, meaning it doesn't cause intoxicating effects. Like other cannabinoids, CBD may play an important role in helping out our bodies' endocannabinoid system. The system is responsible for regulation of various functions throughout the body. It is thought to help regulate sleep, pain sensation, appetite and more. So, it's theorized that when CBD binds to cannabinoid receptors, CBD could be serving a purpose to help with the body's regulatory functions.
So you say you want a (CBD) revolution
Since CBD was federally legalized in 2018, it exploded in popularity as a revolutionary wellness trend. Dr. Dabber is thrilled to be a part of this cutting edge movement, with our line of CBD cartridges. As with all Dr. Dabber products, we built our CBD oil vaporizer pens with an intention to be the best out there. Our CBD pens are crafted with high quality U.S. Grown Broad Spectrum Hemp Distillate. Broad spectrum CBD distillate is an extract from the hemp plant that contains a range of cannabinoids and terpenes, giving you a wide profile of flavor and potential wellness benefits, all while limiting the amount of THC. Each of our CBD cartridges contains approximately 250mg of broad spectrum cannabinoids bursting with cannabinoids like CBD, CBC, CBG & CBN and of course, our Signature Terpene Blend. This healthy blend creates what's known as the entourage effect. The entourage effect utilizes a hearty combination of terpenes and cannabinoids so you don't miss out and makes your experience that much more impactful. You can read more about this in our blog post, "What's In Dr. Dabber CBD?".
Much like the CBD movement took time and momentum, Dr. Dabber worked tirelessly to find the right partners and craft the ideal formulations to create a uniquely flavorful CBD vape cartridge - and an out of this world CBD vape experience. In order to level up, Dr. Dabber's supreme CBD vape cartridges are paired with our purpose-built Dr. Dabber Universal Batteries, which are calibrated to directly match to our cartridge requirements. Dr. Dabber's CBD vape batteries come equipped with variable heat settings to fine tune your CBD experience as well as session mode to ensure you don't miss out on its battery life. We're always looking out for ways to help you lift off.
Lab tested CBD or bust
Since National CBD Month is a time of education, we wanted to tell you all about the importance of lab tested CBD. Lab tested CBD is crucial for several key reasons. Properly lab tested CBD helps you to achieve a more accurate picture of what the hemp plant's overall profile looks like. This matters because the CBD you buy is going into your body. First, CBD lab testing gives you a precise measurement of terpene and endocannabinoid count. But there are other reasons you need to make sure you're using lab tested CBD that help to ensure safe use. Lab testing determines presence of heavy metals, pesticides and microbes in your CBD, as well as levels of chemical solvents that may have been left behind. Through adequate testing, you can be sure that you're protecting yourself from potentially negative, and sometimes dangerous effects. Dr. Dabber believes that testing is essential to safe use, and we make sure that each of our CBD cartridges are tested, with results available to you for your records. In order to check your lab test results, all you need to do is scan the QR code on your cartridge's packaging to see batch-specific results. Want to check out the lab results before you purchase, just to be completely safe? No problem - each cartridge's product page has lab results hyperlinked in the description. Our Dr. Dabber CBD vape pens steer clear of propylene glycol, polyethylene glycol, vegetable glycerin, and MCT oil.
Celebrate with our CBD Vape Pens!
Check out the Dr. Dabber difference below with descriptions of our very own CBD cartridges and celebrate National CBD Month with us! Right now, we are offering our CBD Tester Tower at 25% off. The tower comes equipped with all four blends of our CBD Distillate Cartridges. This offer is for a limited time only and of course, while quantities last.
First up is our Original Blend. The Original CBD Blend features our signature terpene blend. The flavors are reminiscent of a bright summer day, with hints of citrus, candied fruit, and sour seeded berries. The Original Blend takes a different approach to January and whisks you away to an oasis where satisfying and subtle collide. A perfect balance.
Let us take you to the sweet spot. Move over long winter nights - our Citrus Blend will awaken your taste buds and rejuvenate you all within the bounds of a delicious citrus dominant blend. Wake up to notes of Florida orange blossoms, with a fine taste of honeysuckle. Our Citrus CBD Blend finishes off with a warm medley of citrus including grapefruit, lemons, and lime - the perfect flavors for transitioning into warmer months.
Dr. Dabber knows what it means to be bold. Our Robust CBD Blend exhibits just that, boasting strong bursts of bourbon, violets, and earth. In all, the combo gives this terpene blend a complex, rich flavor profile. If you're looking to be brought back to Earth and centered this CBD month, this full-bodied cartridge is for you.
Finally, we have our Fresh Blend. The Fresh Blend refreshes your senses. Breathe in a combination of crisp flavors like the sweet smell of pine, mint, cucumbers as well as fresh cut grass. The Fresh Blend keeps you wrapped in the arms of spring, even in the dead of winter.
Hold the phone - Each of Dr. Dabber's CBD blends can be paired with our Universal Batteries, which are sold separately. Our batteries are perfectly calibrated to our distillate cartridges' heating element and are 510 threaded, making them ripe for universal use. These sleek and stylish 510 vape batteries feature 3 heat settings, as well as 15-second pre-heat mode, perfectly functional for your CBD celebration. The best part? The batteries are good to go for up to 50 uses, so whether you're using 250mg or 500mg, our 510 vape batteries have your back.
CBD is special, and we hope you have a fantastic National CBD Month. Keep spending time educating yourself on all things hemp CBD. We really believe the future in CBD is a bright one. Speaking of the future, don't forget to try out CBD concentrates with our other out of this world products, like our new Boost EVO electric dab rig or our Stella portable vaporizer.