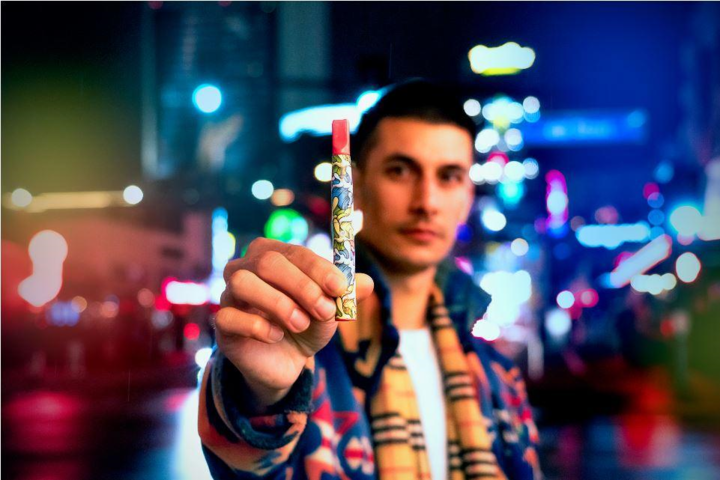 We're excited to announce the release of the second collaboration from our product line's Artist Series - the Aaron Kai x Aurora Kit. Arriving just in time for Spring, the limited edition Aaron Kai x Aurora Kit is offered in two vibrant colors - "Dabber Blue" and "Summer Camo".
We're excited to announce the release of the second collaboration from our product line's Artist Series - the Aaron Kai x Aurora Kit. Arriving just in time for Spring, the limited edition Aaron Kai x Aurora Kit is offered in two vibrant colors - "Dabber Blue" and "Summer Camo".
Hawaii native, Aaron Kai, is notorious for his colorful, cartoon-style wave patterns. The post-pop artist has been drawing his entire life, but has only begun his professional art career in the last six years. Drawing inspiration from his days of surfing in Hawaii, Aaron Kai has quickly become globally renowned for his signature "wave" patterning. Inspired by the morning surf, Aaron's use of eye-popping colors and flawless line work have an almost "print-like" aesthetic. The post-pop artist applied his wave-like designs to our award-winning Aurora pen to create this awesome collab.
"Dr. Dabber's innovative vaporizer has allowed me a quick, convenient, and accessible way to enjoy my smoking experience. Whether I'm traveling or at home, this vaporizer is an integral part of my creative process." - Aaron Kai, Artist
The Dr. Dabber crew has been huge fans of Aaron Kai for quite some time now leading to so much excitement surrounding this collab. Over the years, Aaron Kai has collaborated with major brands such as Adidas, Nike, Jameson Irish Whiskey, and The Hundreds, so we're both excited and grateful to support Aaron Kai as his art career flourishes.
"We're really excited to be continuing our Artist Series with another one of our favorite artists. Aaron's creative, laid-back art style really meshes well with the Dr. Dabber brand and the collaboration led to some really cool ideas, like the sealed paint can container, which was Aaron's idea. The Aaron Kai Aurora is one of the coolest looking products we've ever released and I'm excited to give our customers a chance to grab one of these limited edition pens." - Jamie Rosen, CEO
The Aurora is a variable voltage, magnetic vaporizer pen designed with the user in mind. Introduced to Dr. Dabber's product line in 2016, the Aurora has since proven to be one of the vaporizing company's best-selling products. As the only vaporizer pen on the market with fully magnetic connections, the Aurora makes for a seamless user experience. Having won several awards including Best Packaging/Kit, Best Durability, and Best Taste, the Aurora is truly a top-grade pen.
Aaron came out to Vegas and visited the Dr. Dabber headquarters recently. During his stay, we were able to pick his brain about art, cannabis, and a host of other topics - all while seeing the post-pop artist bring our office space to life with a custom wall. Check out the exclusive interview below.
Q: When was that moment when you found art? How did you know this is what you were meant to do?
A: I found art very young, probably 4/5 years old. Over the years from then until my twenties is when I knew I'd do it for a living.
Q: Where or who do you draw your influence from as an artist?
A: I get inspired by a lot of things I see; nature, cartoons, colors, movies, music, fashion, everything really.
Q: When you're not creating, what do you like to spend your free time doing?
A: I like to surf, or play basketball. I like to hang out with my friends, BBQing or working on something fun & collaborative.
Q: You have a very distinct style - how did you come up with your notorious wave-like patterns?
A: I used to draw a lot of waves in High School instead of taking notes, so from there it evolved into a more funky style.
Q: What's your all-time favorite piece of art?
A: I don't know, that's a hard one. I like a lot of art. There's a Keith Haring study print I was looking at from 1989, that's one of my favorites right now.
Q: What's one thing you would tell young artists, like yourself, looking to build a following?
A: Stay committed and be true to yourself, it's hard to fake the funk. Just take note from those who did it before you.
Q: Tell us a little about the creative process when approaching a piece.
A: It all starts with movement, pencil lines in certain directions I want the piece to flow, then I build it out from there. Trying to be as free as possible while maintaining structure is the hardest part about starting a piece.
Q: What are some of your favorite songs right now?
A: Mustard & Migos - Pure Water AND Marshmello & Roddy Ricch - Project Dreams.
Q: If you could sit down and have a conversation with one person, dead or alive, who would it be?
A: I always thought it'd be interesting to talk to an older or younger version of myself.
Q: What do you think about the marijuana movement/legalization efforts and seeing this new industry coming together with brands like Dr. Dabber?
A: I've been smoking for years, it's about time, and I can't wait to see where the industry is at in 10-20 years.
Q: How do you feel art can affect the world we live in?
A: Art can and should make you and people around you HAPPY.
Q: Do you have a dream project you would like to try and conquer?
A: I'd like to donate all my art to a museum when I die, I think leaving a legacy like that would be super cool.
Q: How has cannabis helped you, whether in your personal life or in the creative space?
A: Cannabis helps me loosen up, it helps me heal after a long day of painting or drawing. Cannabis helps me relax when I'm having a tense day, especially while drawing or painting.
Q: Tell us about the Dr. Dabber X Aaron Kai collab.
A: I'm excited to show everyone the amazing packaging, from the pouch, to the can & can opener/dab tool. It's my favorite collaborative packaging we've done yet. I love the pen itself, and the artwork looks super wavy!
Q: Any new, exciting projects we can expect to see from you?
A: I'm getting married in June, so I've been working a lot on designing stuff for the wedding; table runners, take-aways, signage, etc. Lol. Of course we are also working on some other projects with some really fun people, can't spill the tea yet, but if you follow me you'll see in a few months.