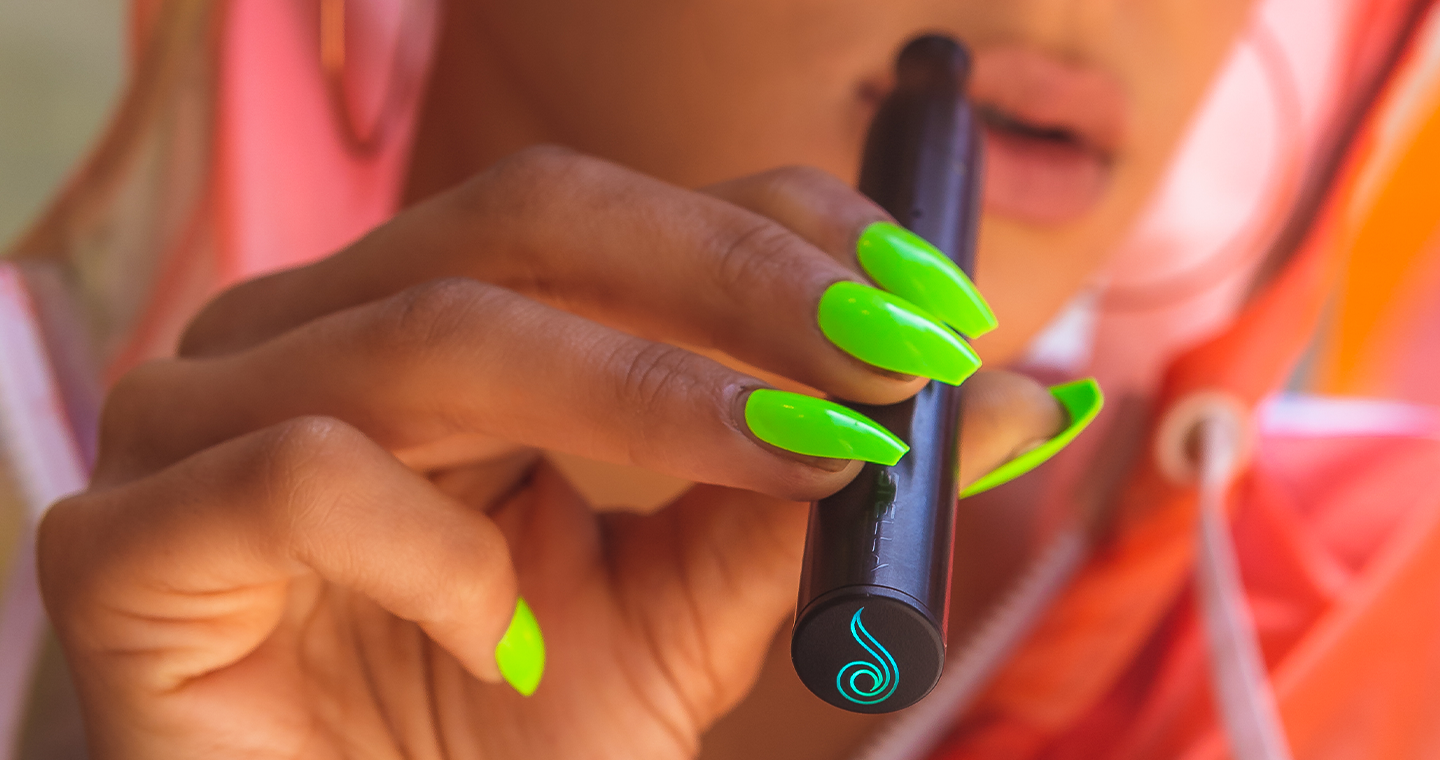 Shatter is a popular cannabis extract named for it's glass-like appearance and texture. If you're new to shatter and looking for a vape pen, we've got you covered. Read on to learn more about shatter, shatter pens, and everything in between.
Shatter is a unique cannabis extract that's both solid and translucent in appearance, as if you could "shatter" it, like glass. If you're new to shatter, you might wonder what vape pens are available to you. Well, we've got ya covered! Read on to learn more about shatter, shatter pens, and everything in between.
What is Shatter?
For those unfamiliar with the term, shatter is a form of cannabis extract. It comes in a solid form that's translucent in appearance and solid to the touch, but tends to "shatter" into pieces if you were to drop it or break it in half. It's highly concentrated with THC and CBD, making it an impactful and potent form of cannabis. It's also known as hash oil.
The main things to know about shatter include its:
Make:

Shatter is made out of an extract that is a butane solvent, highly potent.

Texture

: Rather than possessing a spongy or oily texture, shatter is solid and smooth.

Potency:

Like other cannabis extracts, shatter is highly potent.
All of these define shatter as a unique extract in the cannabis world.
Read on to learn more about shatter and the various pens you can utilize to smoke it. Three particular pens stand out as choices we think will make your experience a little easier.


Benefits of Shatter
Many benefits come with utilizing shatter over other forms of cannabis and cannabis extract. There are many reasons why shatter is an excellent option for beginners and experts alike.
Some of the benefits that come with shatter include its:
High potency

: Shatter is an extremely potent variety of cannabis extract. Those who vape wax can enjoy a significant reaction.

Fast-acting

: Shatter acts fast. You won't have to wait long for the desired effect to take place.

Shelf-stability

: Shatter is shelf-stable, so you can store it for longer than other cannabis extract varieties.
If you're looking at investing in shatter for potency, you won't be disappointed. Not only will you experience a strong high, but you'll feel it faster than other varieties. Shatter is a quality substance that, if used correctly, will satisfy smokers of any experience level.


Defining Traits of Shatter
Many traits define shatter and permit it to stand out from other types of cannabis extract. If you're trying to determine if an item is shatter, we've listed some traits you can look for.
Some of the defining traits that define the look and feel of shatter include:
Texture

: Shatter is solid, different from most other cannabis extracts. It resembles hard candy when touched.

Color:

The color is close to that of honey or maple syrup. It's yellowish/brownish in tone.

Breakability

: Shatter should shatter, just like glass or a piece of hard sugar. You should be able to break it into little bits for vaping purposes.
Shatter can vary in how it looks and feels, but most varieties maintain similar traits that allow the substance to stand out.


Why You Need a Budder Cutter if You're Working with Shatter
The Dr. Dabber Budder Cutter is a heated, multi-use dab tool, perfect for handling all types of oil and wax, but especially shatter. The Budder Cutter carefully heats oils and waxes without burning or vaporizing them, allowing you to slice through shatter with ease. It also comes with 7 different interchangeable tips, all uniquely designed for a different purpose. Whether you're slicing, stamping, loading, or scooping shatter, the Budder Cutter will handle it with ease and precision.
Did we mention this heated dab tool is also great for cleaning built up wax out of your vape pen? Just attach one of the pointed tips, press the power button to begin heating, and once it's ready, you can melt down the built up wax in your vape pen, so you're able to scrape it out. Conveniently enough, the Budder Cutter also acts as a heated loading tool and like all Dr. Dabber products, comes with an industry-leading warranty. If you want to learn more about the Budder Cutter, check out this blog post here.


What Pens Work with Shatter?
There are three types of pens, and all of them work with shatter:
Wax pens:

Wax vape pens primarily work with waxes, vaporizing them for use.

Dab pens

: Dab pens are similar to wax pens, dealing with controlled levels of dosage.

Vape pens

: Oil vape pens turn oil into a vapor that is ready for inhalation.
Read on to learn more about each of these pens. If you're looking for the best device for smoking shatter, these descriptions might help you decide for yourself. Shatter is a diverse material that works well for those who want to utilize a specific type of pen for their enjoyment. We can help you find the ideal match for you.


Wax Pens
Wax pens are a version of the vape pen that vaporizes the material in the device. Wax pens vaporize concentrates and are in charge of controlling the amount you inhale. You should have no problem utilizing shatter with a shatter wax pen.
You can use a wax pen for shatter by:
Opening the pen:

First, you need to open up the piece and locate the chamber and coils.

Using a dabber

: Next, place a bit of shatter on the tip of a dabbing tool.

Inserting

: Finally, insert the shatter into the chamber.
Once you've completed these actions, you can utilize the extract inside your wax pen.
Many prefer a wax pen because they make cannabinoids more effective and improve the flavor of the substance. Wax pens are best for experienced users who know what they can handle. It's simple to place shatter inside. The best shatter pens are often wax pens for concentrates.
An electric wax pen will best serve your needs for smoking shatter. Wax smoking pens that run off of electricity will make the process efficient and simple.


Dab Pens
Dab pens are another device that allow for portable vaping. This dab tool is very similar to e-cigarettes, vape pens, and wax pens. It's small and allows the user to take in tiny hits of THC at a time. With dab pens, you can easily smoke shatter.
You can utilize shatter inside a dab pen by
Placing:

First, you need to break off a small piece of shatter and place it in the chamber.

Melting:

Next, press a button to begin the melting of the shatter substance.

Inhaling

: Enjoy the process!
Many users prefer dab pens or a dab tool because they're a much faster way to feel the impact of a cannabis extract. It improves the overall taste as it melts and transforms the wax concentrates into vapor. The dab pen or dab tool is an excellent choice for any user, new and experienced alike.


Vape Pen
A vape pen traditionally uses oil. It takes this oil and places it inside a ceramic plate atomizer. From there, the oil turns into a vape that can be inhaled and used. It's an excellent option for both experienced users and beginners. Vape pens can also be used for shatter.
If you want to use shatter in a vape pen, we can help you out! Read on to learn more about the specifics involved with using shatter in a vape pen.


Best Wax Pen for Shatter
Whether you select the best wax pens of 2020 or the best wax pen of 2018, there's an option out there that will work for you. There are several options on the market, some better than others. While all vary in price, you can usually find an option for any budget, no matter what you want to pay.
Overall, we recommend the Stella Vaporizer. This option has all the features you're looking for in a vape pen, like a long-lasting battery life, wide temperature range, floating vaporization chamber, TCR heating element, and more. Want to know more about the Stella? Read up on it in our blog post here.
If you're looking for something with a tighter budget, the Ghost Vaporizer pen is a great option. This pen operates under low heat within its heating chamber, working to melt waxes and oils gradually. We think you'll enjoy the benefits this affordable wax pen option has to offer because it makes shatter easy to use.
Investing in a wax pen that will give you the right taste and effect is critical if you decide to smoke shatter. If price is a big deal for you, we can help you out with that! Read on to learn more about the average cost of wax pens and what factors can impact the overall cost of wax pens.


How Much Does a Wax Pen Cost?
Wax pens can vary in price, depending on the quality of the device and what it's capable of doing. If you're looking into a wax pen, don't worry! We can help you better understand how much a wax pen costs and guide you to the one that works best for you. There are many options for varying costs, no matter what your budget is.
On average, wax pens will run you anywhere between $30-$100. Of course, this price difference can vary depending on a multitude of factors. The more technology a wax pen has will push the price up. There are many different kinds of wax pens. A few include the coil-less wax pen and the quartz wax pen, which have varying benefits, but researching a wax vaporizer before investing will ensure you're paying the right price.


Best Affordable Wax Pens
If you're looking into a wax vape pen, you might notice that they can be expensive if you want to invest in a nice one. Not everyone can afford to spend that much money. If this describes you, don't worry. Some of the most affordable wax pens you can find include the Stella vaporizer, the Ghost, and the Light–all for under $100. If you're on a tight budget, don't forget we offer payment plans on all products! Just choose Sezzle at checkout.


Best Dab Pens for Shatter
Dab smoking pens are abundant, supplying people around the world with a way to medicate with their favorite oils. Many prefer the dab pen over a wax pen because it often produces a stronger THC effect when compared to wax and vape pens. If you are going to smoke shatter, it's critical to understand the best dab smoking pens for this purpose.
If you're using shatter, one of the best vaporizer pens you can use is the Stella Vaporizer Pen. This product has multiple heat settings within its heating element, possesses a long-lasting battery life, and even has a constant voltage element to avoid burnt hits. It's affordable, landing at about $100. We recommend this as a high-quality option for a battery powered pen.


How Much Does a Dab Pen Cost?
On average, a dab pen can cost anywhere from $30-$100. The more you pay, the more high-quality of a dab pen you'll receive. If you want an item that will last a long time, you should put more into your dab pen. Some brands are more put together than others, providing their users with a clean smoke and a great taste.


How Much is Wax for a Dab Pen?
Wax that goes into a dab pen varies in price. In some cases, it can cost up to $45 for an ounce. However, this tends to be the higher end of what you'll pay for wax in a dab pen. Several factors can impact how much wax costs for you if you want to put it in wax vapes.
There are typically two price ranges wax can run under for a dab pen. These ranges include:
Well-established market

: An ounce typically runs between $20-$45 in a market that has been around for a long time.

New market

: After taxes, an ounce can cost more than $75 in a newly established market.
An ounce of wax is under $100 most of the time, but where it falls in that range depends on where you buy your wax.
Wax can be pricey, but it is more affordable than many of the concentrate options on the market. When buying wax, make sure you buy from a reputable source. Wax can be marked up to a ridiculous amount, and it's all too easy for newbies to spend too much.


Best Affordable Dab Pens
Dab pens can be expensive, and not everyone can afford to spend a large sum of money when investing in a new one. If you think a dab pen is the best choice for you, we've got you covered. Getting a dab pen doesn't mean you have to spend a drastic amount.
Some of the best affordable dab pens on the market include the Ghost Vaporizer and the Light Vaporizer. Both of these are way under $100 and still provide a quality experience that will enhance the overall effects of shatter. Although they are not as intricately designed as the afore-mentioned Stella, they provide an excellent hit every time for almost half the price and are backed by the same Dr. Dabber industry-leading warranty.


Is Shatter Safe to Vape?
Not only is shatter safe to use in a vape pen, but it is one of the strongest concentrates you can vape. It has a purity of 80%, so you're sure to feel the effects right away.


How to Smoke Shatter in a Vape Pen
If you are new to the concept, it can be intimidating to figure out how to smoke shatter in a vape pen. Although it seems tricky, it's a simple process once you know what you're doing.
To smoke shatter in a vape pen, you need to follow these steps:
Break

: First, you should break off a piece of the shatter for your vape pen. It should be small enough to fit inside, but big enough to be effective.

Insert

: Next, insert the shatter into the chamber. It should be small enough to fit without pushing it inside.

Vape:

Finally, vape the shatter as you normally would.
If you are looking for an excellent reusable pen, a vape pen is an excellent option. You can vape shatter just like most other concentrates. Since it's so sharp, it's easy to break off a piece of the item and put it inside the chamber for use. Vaping shatter in a vape pen is one of the most popular uses for this item.


Can You Use a Vape Pen for Wax?
You can use shatter in a vape pen, but what about wax? Can you put wax inside a vape pen? Wax is thicker than the traditional oil that vape pens typically use, so if you're thinking about smoking wax in a vape pen, it's important to know so you don't break your pen.
The short answer is yes, you can use wax inside a vape pen. However, you need to be careful. To use wax properly inside a vape pen you should:
Scoop

: First, put wax inside the ceramic chamber or heating coil chamber of the pen style vaporizer. You should ensure it goes on top of the heating wick coil or quartz coil for best results. (You can have a ceramic or quartz coil too.)

Close

: Next, you can close the glass mouthpiece (or any style of mouth piece) and enclose the wax inside the vape. Make sure it's closed tight.

Vape

: Finally, press the button and vape. The wax should work well in a vape pen. If it doesn't, open up the system and make sure you've placed the wax in the proper place.
Although you can put wax inside a vape pen, it will be easier for you to stick with the traditional wax pen method. It's less likely to damage your materials and will keep everything clean as you go along. Wax vaporizers work best with wax, but you can always switch it up if you feel like it.


Shatter Versus Live Resin
Another common cannabis extract that experienced users like is live resin. Although both shatter and live resin provide a distinct high, they are different in many ways. We'll go over the differences between these two extracts so you can better understand them.
Some of the biggest differences between shatter and live resin include:
Malleability:

Shatter has a hard texture, while live resin more closely resembles ear wax. It can be molded and shaped by hand if necessary. Shatter needs to be broken into smaller pieces like glass.

Flavor:

The flavor of live resin is much stronger than that of shatter, so you can really taste those terpenes.

Potency:

Although both are pretty similar in potency, shatter edges ahead with the terpenes it has embedded in its system.
They're just as different as they are similar but there are also a few similarities that exist between the two. These include:
Manual production:

Both live resin and shatter are the result of manual production, rather than natural.

Effects:

Live resin and shatter have similar psychoactive impacts on the users, often sparking a quick high that can sometimes bring on anxiety.
Both are effective extracts that can give you intense effects.
Shatter and live resin are both popular choices for those looking for an extract that will impact them in a big way. Just like shatter, there's a particular way live resin should be enjoyed. We'll help you pick the best pen if you decide live resin is more for you than shatter.


Best Pens for Live Resin
Live resin is a different substance than shatter, and therefore has varying requirement. If you're looking for the best pen for live resin, we can help you out. Several pens rise above the rest when looking for a pen for live resin.
The Stella pen is a product that stands above the rest. With its intricate makeup and highly detailed heating abilities, the Stella pen is the best if you want to use live resin.
Live resin is an excellent and highly potent alternative to shatter. If you spend good money on live resin, make sure you're also investing in a high quality pen that will provide you with all the beneficial effects.


Other Questions You May Ask Yourself
We've covered a lot, but there still might be some questions we haven't answered. We'll go over a few more so you can have a more rounded understanding of shatter. The more you know, the better equipped you'll be to invest in some for yourself.
Read on to learn more about a few of the questions we left unanswered. Hopefully, these can clear a few things up if you're thinking about trying shatter in your vape pen.


Q: How Potent is Shatter?
Before you smoke shatter, it's critical to understand it's potency. This action will help you understand what you need to prepare yourself for after using shatter. The potency level can impact whether or not you select shatter for your personal use.
Shatter has the potential to be incredibly potent. Some sources have reported that shatter can have up to 90% THC inside its makeup. This amount is far, far above what any casual strain of cannabis has inside. Shatter is one of the most potent extracts you can find on the market today.
If you are on the hunt for something with high potency, shatter means good news for you. Even the smallest amount of this substance will do the trick.


Q: Is Shatter or Live Resin Better?
Shatter and live resin are two materials that are often compared in the cannabis extract world. If you are an experienced smoker, you might wonder which of these substances is better. After all, you want to get the most for your money.
Overall, live resin is the better substance. This is because it's extremely potent. Live resin is more potent than shatter, so the effect will be stronger. Although they are similar in many ways with their potency, there are more terpenes inside live resin.
Shatter is beneficial for different reasons and will still provide you with a potent and effective high. However, live resin will cost you much more than shatter. If you need it, invest in live resin for its stronger benefits. If you are seeking a simple effect, shatter is the best way to go.


Q: How Can You Tell if Shatter is Good Quality?
It can be extremely easy to fall victim to a cannabis extract that has not been put together correctly. Shatter is no different. Knowing how to tell if shatter is good quality will save you from the pain of vaping shatter that's not of good enough quality to smoke.
You can tell if shatter is good quality by examining the:
Odor

: Shatter doesn't have a strong odor. If you have a substance that has a bad smell or is strong when you sniff it, you probably have a bad shatter.

Color:

The shatter should be honey-colored or maple syrup in tone. Any other color may indicate poor quality.

Impact

: Shatter should have a decent effect on users. If you don't experience anything, you likely have a bad strain. You should experience something when you inhale shatter.
These traits set good shatter apart from poor shatter and are critical to understand so you don't get ripped off when buying. We hope that with this information, you'll be able to tell if you're getting good quality shatter.
Pick up a Wax Vape Pen Today!
We believe in making the smoking experience as pleasant as possible. You shouldn't have to struggle to look for a pen when dealing with shatter, wax, or live resin. If you need a quality pen, look no further.
Check us out to find affordable and discreet options that you can take with you anywhere. All three pens mentioned above are of quality make. The
Stella
is the most intricate piece, made with improvements on our old Aurora design. The
Ghost
and
Light
are lower-priced pens that anyone can afford, but are designed with the same high-quality engineering you've come to know and love from Dr. Dabber. We're here to make your experience a good one.