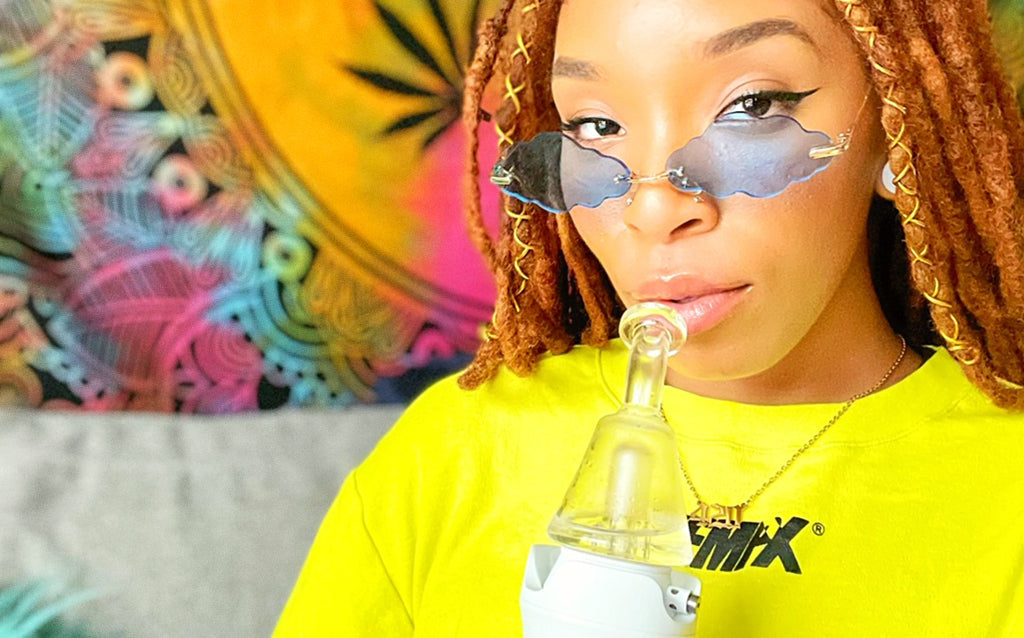 Up next on our blog is Sydni Smiley–a cannabis enthusiast, ambassador, educator, and model who aims to destigmatize and normalize cannabis use. Naturally, we had to interview her for our Influencer Feature series. Check out the exclusive interview here.
Name: Sydni Smiley
Instagram: @_shadesofsyd
Up next in our Influencer Feature Series is cannabis queen and content creator, Sydni Smiley (@_shadesofsyd on Instagram). Sydni is a cannabis enthusiast, ambassador, educator, model and personal brand that aims to destigmatize and normalize cannabis use for people of all walks of life. Sydni became known for her Instagram segment "Different Strains 4 Different Pains," where she gives product recommendations for various ailments, as well as product reviews.
More recently she's gained recognition with her humorous and relatable cannabis based skits. She also incorporates pieces of her health and wellness routines to encourage others to find healthy ways to heal themselves. Sydni is no stranger to the cannabis community, as she has been working in the legal cannabis industry as an ambassador, influencer and educator for almost four years now. We picked Sydni for our next feature because we love her content and how she's been such a positive representation of the cannabis industry.
This month, we got the chance to pick Sydni's brain on all things cannabis while getting to know a little bit more about her. Check out the exclusive interview below.


How long have you been smoking weed? What's your favorite strain?
I have been smoking weed for almost 11 years. I know it's bad lol, but I started when I was fifteen. A well grown Blue Dream hits every time for me. I love a mellow yet stimulating high. Perfect for a chill day.


What's your favorite thing to eat after a smoke sesh?
It depends on my mood, but usually something fresh like some fruit or a smoothie. I'm a huge believer in the entourage effect so I like to pair mangos or orange juice with my seshes for the added terps.


Flower or oil? What's your go-to?
Flower all day. Forever a flower girl.




Tell us more about your brand,
Medicated Melanin
. What inspired you to start your own company?
I've been wanting to have something of my own for the longest time but I just wasn't sure what. I came up with the name Medicated Melanin years ago and didn't know what to do with it until one day I got the idea to release my own products/merch under the name. I wanted to create a brand that reflected my relationship with cannabis as a Black woman and that's why I started out with a CBD infused lip gloss as my first product. Lip gloss is a staple for pretty much every woman, but definitely Black women. I want Medicated Melanin to turn into the FUBU of the cannabis industry.


Over the last year or so, quite a few social issues have come to the forefront of our national, and even global conversations. How (if at all) has this influenced your work as a creator?
I've always been the type of person to speak out about different worldly issues and as my influence has grown I definitely feel a responsibility to use my platform to raise awareness about various issues. So I really don't think my content has changed, but my audience has grown so now I'm just able to reach more people.


As a content creator, how has COVID-19 and quarantining influenced the content you make?
I started to incorporate COVID and quarantine humor into some of my skits during the early parts of the pandemic to keep spirits high and use humor to keep myself and others from getting too down. My focus has definitely shifted more towards how to care for your mind, body and spirit during this time especially since the end is nowhere in sight yet.



What advice would you give to someone looking to become an influencer in the Cannabis space?
Just start creating. Don't worry about not having the right equipment or a lot of followers, those things will come as the journey progresses. But you can't get where you want to go if you keep procrastinating starting.


What is your vision for women in this industry? What would you like women to know about entering the Cannabis industry or exploring Cannabis?
For us to take over completely and be in high positions in every part of this industry. Women, especially women of color, contribute so much to this industry and barely receive their flowers. Just because we all smoke weed doesn't mean it's all "peace and love." Women face the same obstacles in the cannabis space that we do in other industries. It's still an amazing industry to find a career in, I just don't want anyone to come in with certain expectations like I did.


What's something not many people know about you?
I know three different languages. I know Spanish, American Sign Language and of course English.


Any new, exciting projects or plans we can expect to see from you in 2021?
I'm working on expanding Medicated Melanin as much as I can, new products, new merch, just new everything! I will be launching another brand outside of the cannabis industry very soon, so definitely be on the lookout for that!
And that's a wrap! Sydni's dedication to her craft and creativity is an ongoing inspiration to the Dr. Dabber team. We are proud to have her in the Dr. Dabber family, and cannot wait to see what additions she will bring to her Medicated Melanin line in 2021. For now, we'll just have to patiently wait until she unveils her new "brand outside the cannabis industry"–but like everything else she does, we're sure the brand will be second to none! If you are interested in learning more about Sydni, and her favorite Dr. Dabber products, check out her Instagram page–you'll probably find a few laughs there too!