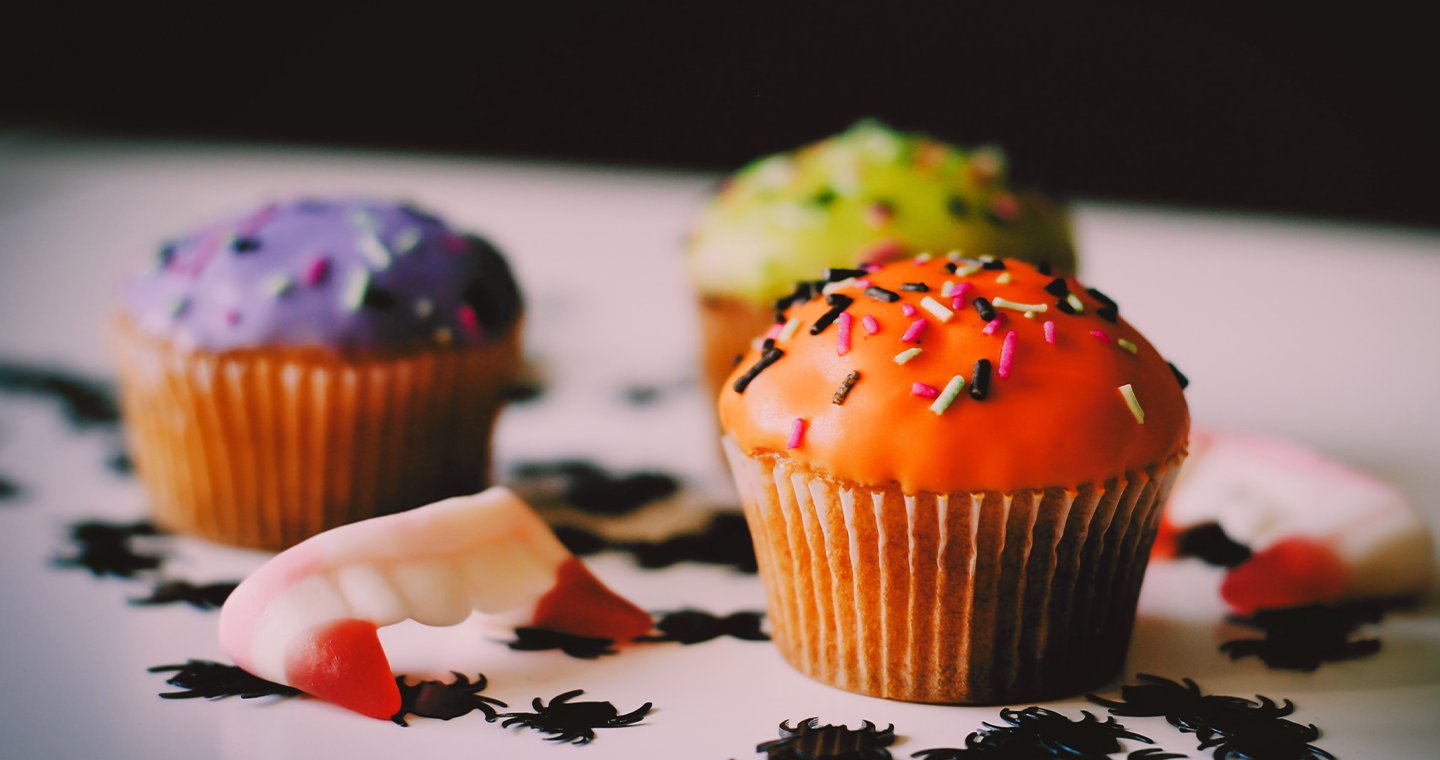 Halloween is the best time of the year for getting your sweet tooth taken care of so we're focusing on some of the best Halloween snacks to indulge in when you have a case of the munchies!
Halloween is the best time of the year for getting your sweet tooth taken care of. Any candy or snack you can imagine will be available, so we're focusing on some of the best Halloween snacks to indulge in when you have a case of the munchies!


Spooky Milano Cookies
These are so easy to create and can take care of those cravings you may have! It's as easy as dunking Milano cookies into white chocolate and letting the cookie cool. While it cools for a few minutes, take a couple of hits on your Stella. Then, they'll be ready to eat! Keep some chocolate chips on hand to give them eyes, and create a spooky spin to make ghosts or mummies!


Halloween Snack Mix
Nothing says Halloween like candy corn. If you want to have a festive snack mix to sit on the couch with, grab a bag of your favorite Chex mix, candies, and of course, candy corn! Mix them together in a bowl and get ready to watch your favorite scary movies. Tis the season, after all. Not sure which movies to binge? Check out our top 10 list of Dr. Dabber-approved Halloween flicks.


Monster Avocado Toast
This snack is a bit more involved than the previous snacks, but it's all the more worth it. Who doesn't love avocado toast, after all?
Whip up a mashed avocado spread, just like you would for any avocado toast. However, keep some extra ingredients on hand. Consider using olives, sliced tomatoes, and even seaweed wrappers to add some details to your spooky breakfast! It's a fun (and less complicated) alternative to making a jack-o-lantern.


Graveyard Pizza
Pizza might be one of the most universally loved foods of all time. The best part about pizza is that you can prep it ahead of time before the munchies really set in.
Grab a cheese pizza, or make one by hand. Like the monster avocado toast, the toppings are the key here. Turn olives into spiders by slicing them, and turn sausages into tongues by cutting them the long way. The only limit here is your creativity!


Pumpkin Cheese Ball
Pumpkins are a fall staple. Once it's pumpkin spice season, you know Halloween is right around the corner. Not a fan of pumpkin spice? Don't worry! There's no actual pumpkin in this recipe.
Grab a 16-ounce block of cream cheese and let it soften. While that's softening, shred a block of cheddar cheese and combine the two with green onion, cumin, salt, and pepper until it's all mixed evenly. Next, place the mixture onto a sheet of saran wrap. As you wrap it, shape it into a ball. Let it cool for a few hours and while that's happening, grab your SWITCH and have a session! Get the munchies going for this delicious snack.
When you remove the ball of cheese from the fridge, unwrap it and roll it in some Doritos! Voila! You have the tastiest pumpkin ever. Use chips, crackers, or anything that goes with cheese to dip. You've got the pumpkin shape without the pumpkin flavor.
Don't forget to prepare yourself with everything you need to have the best sessions possible. Our Budder Cutter can get you feeling prepped for a spooky dabbing experience and when you need help with those sticky, hard-to-manage oils or waxes. Using the Budder Cutter feels like performing a magic trick after every use! Elevate your experience to the fullest and check it out today.


Are You Looking For More Fun on Halloween?
Looking for more of a medicated snack? Upgrade any of these treats to edibles with your AVB (Already Vaped Bud). Not sure where to start? Grab your SWITCH and head to our Halloween edibles guide here.
If you're looking for more, be sure to head over to our website. We've got plenty of treats for enthusiasts to indulge in. And why not take full advantage of the spooky holiday spirit? Turn your munchies into a festive experience and change up the menu. We fully support taking munchies to the next level, so if you're looking for inspiration, we've got you covered.