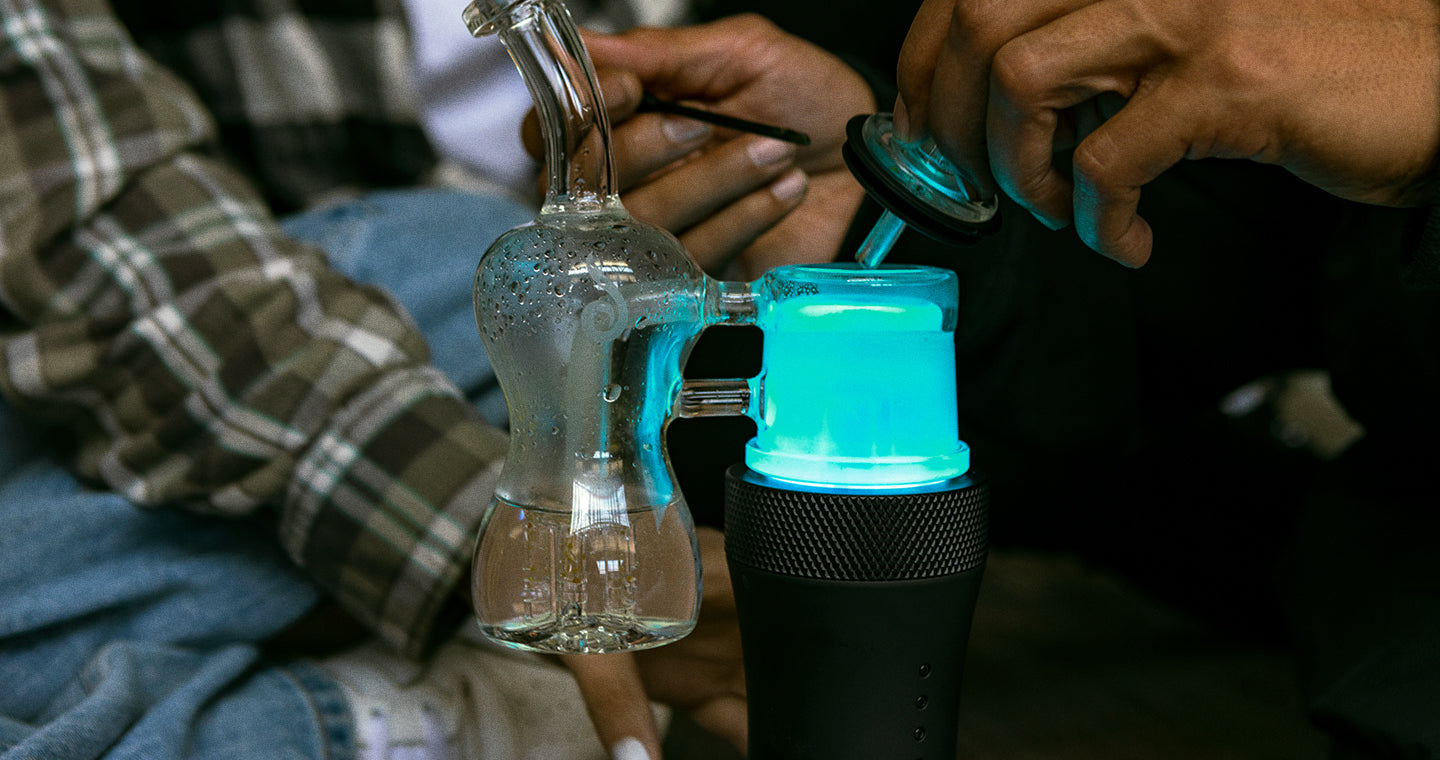 Whether you prefer oil or flower, the SWITCH offers unparalleled performance, making it one of the most fully customizable erigs on the market. Today we're breaking down some of the benefits you can expect to find when using the SWITCH in Flower Mode, along with our personal favorite list of strains. Keep reading if you want to learn more.
Whether you prefer oil or flower, the SWITCH offers unparalleled performance, making it one of the most fully customizable electric dab rigs on the market. We find that a lot of SWITCH users are most surprised by how well this dual use vaporizer handles flower, so today we're gonna break down some of the benefits you can expect to find when using the SWITCH in flower mode. We'll also share our personal favorite list of strains that we like using in the SWITCH, so keep reading if you want to learn more!
What You Can Expect From Flower Mode in the SWITCH
Unique Vapor Chamber
The SWITCH's unique vapor chamber is completely different from traditional methods of smoking or vaporizing flower, but provides immense versatility. Rather than a traditional bowl, this electric dab rig offers a variety of induction cups for ultimate customization, using patent-pending induction heating technology. If you want to know more about why you should add induction cups to your next vaping experience, check out our blog post here and if you're still unsure about what induction heating really is, we posted an in depth explanation behind this technology in another blog post here.


Low Heat Settings
The SWITCH is totally customizable, with a whopping 25 different heat settings ranging from 300–780° F. On a low heat setting in flower mode, the SWITCH produces invisible vapor with a "toasted" flavor, much like that produced by other traditional desktop flower vaporizers. Not sure which heat setting is right for you? Check out our blog post here to get your next session dialed in.


High Heat Settings
On a high heat setting, the SWITCH creates a completely unique, unparalleled "smoking" experience without combusting your flower. You can expect dense vapor clouds equivalent to what you'd experience from a traditional water pipe.
Using the SWITCH at a high heat level also activates elements in the plant that are not activated at lower temperatures (or destroyed at combustion) meaning the effects are unlike those of a traditional vaporizer or water pipe.


Flower Stretches Further
The amount of flower needed to provide these effects is significantly less than what would be used in other methods of consuming flower. Some SWITCH users have reported up to a 50% decrease in their amount consumed on a weekly basis while still using the SWITCH as often as they would another method.
Our Favorite High-Terpene Strains
Now that you're up to speed on just how capable the SWITCH is with flower, let's explore some of our favorite strains. Whether you're into hybrids, indicas, or sativas, we've got a little bit of everything to choose from.


Gorilla Glue
Like the name hints, this hybrid strain will leave you glued to your seat. Experience feelings of euphoria and relaxation, with a heavy mind high. With Gorilla Glue, you can explore earthy and gassy flavors as this strain is high in beta caryophyllene. Gorilla Glue is a multiple award-winning strain with consumers who will search far and wide to get their hands sticky.


OG Kush
OG Kush was supposedly the outcome of a crossbreeding experiment when a strain from NorCal was mixed with Chemdawg, Lemon Thai, and a Hindu Kush plant. The result was an indica-dominant hybrid strain with a unique terpene profile that includes mercene, gasoline, and pine. OG Kush should smell like fuel, skunk, and spice and you can expect a mixed high and body effect.


Tangie
Tangie is our first sativa on the list! As you can probably guess from its name, Tangie offers a refreshing tangerine aroma. If you were to scratch an orange peel, that's what Tangie smells like, and it tastes pretty much the same. We recommend using the SWITCH on the Royal Blue (400-480° F) heat setting with this strain to get maximum flavor out of its citrusy terpene profile. In true sativa fashion, Tangie is a great daytime weed, producing an uplifting and energetic high so we'd recommend loading some Tangie into your Stella vape pen right before a high intensity yoga class or a hike.


Blueberry
If you're in search of a long-lasting, euphoric high, Blueberry just might be your new go-to indica. This legendary strain took home High Times' Cannabis Cup in 2000 for Best Indica and has only increased in popularity ever since. Let's talk flavor–if a blueberry and a flower had a baby, it would be this strain. Blueberry is a popular option due to its sweet/floral flavor combo, colorful appearance, and high THC content.


Zkittlez
This candy-flavored Indica strain took home 1st Place at the 2016 Emerald Cup and has since placed in several Cannabis Cups. Similar to Tangie, you can expect a sweet, tropical blend of fruit flavors with Zkittlez, but you won't believe just how fruity it is until you actually try it. Zkittlez legit tastes like candy, but it's just as aesthetically pleasing as it is flavorful. It features chunky colas that explode in a spectrum of light green hues and produces a calming, but focused high, leaving consumers feeling alert, happy, and relaxed.


Trainwreck
As the name suggests, Trainwreck is a potent sativa that hits like a freight train–you can expect feelings of euphoria for a mind high, with a couchlock body high. This intense sativa is super pungent and tastes like straight pine tar so if that's your go-to flavor, Trainwreck is for you. This true sativa is great for awakening creativity–we suggest loading Trainwreck in your SWITCH before listening to your favorite music, trying out a new recipe, or starting an art project.


Jack Herer
Also known as "JH", Jack Herer is a sativa-dominant hybrid that's been awarded multiple times for its quality and potency. This strain is a great, OG option if you're just getting into sativas. Because of its rich, genetic background due to crossbreeding, Jack Herer has resulted in a number of different variations, each producing their own unique features and effects. You can expect a piney, slightly citrusy terpene profile from Jack Herer. For the most part, consumers typically describe this sativa's high as blissful, clear-headed, and creative.
Whether you decide to try one of the strains from our list, or a tried and true of your own, the SWITCH will vaporize it with ease and finesse. With 25 different heat settings to choose from, we recommend experimenting with all of them to find what works best for you.