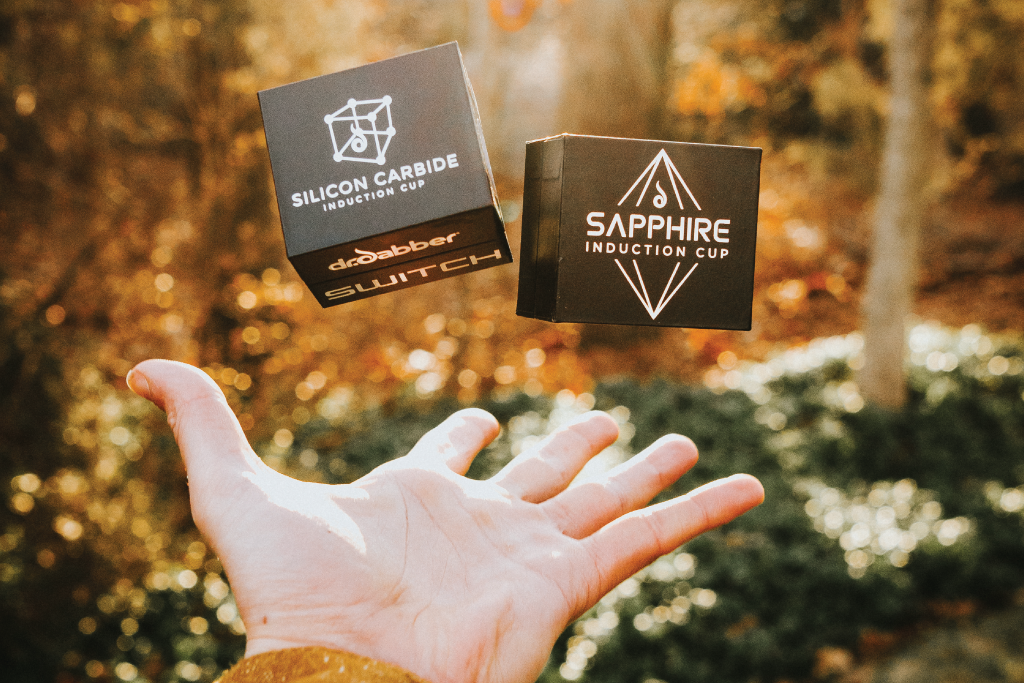 Early on, we noticed the power behind induction heating and implemented it into our very own vaporizer, the SWITCH. Our induction cups heat flower and oil with exceptional precision - achieving desired temperatures and creating supreme vaping experiences. Learn more about our different types of induction cups and why you should add them to your next vaporizer experience.
Revolutionizing vaporizer technology is just how we do things here at Dr. Dabber. It's how we stay ahead of the curve and bring you the best vaporizers and accessories. We constantly ask ourselves, "How can we make dabbing even better?" We've answered this question in myriad ways, but today we wanted to talk about one of the very fundamentals in how we've changed up the flower and wax vape game in ways unseen - how we use heat.
If you look into various cannabis vaporizer or electric dab rig heating methods, you'll see that popular options are often powered by convection or conduction. All of us use these heating methods throughout our day to day lives. Every time you turn on your stovetop? Boom - conduction. And convection? It happens anytime you bake in an oven! However, one method is still on the come up, and that's induction heating. Early on, we noticed the power behind induction heating and implemented it into our very own vaporizer, the SWITCH.


Convection and conduction heating methods are often dab rig and vaporizers' HOC (heating operation of choice). In your standard cannabis vape pen, convection heating occurs by indirect heat circulation with your flower or concentrate in order to create vapor. When vape pens are powered by conduction, all the magic happens within the atomizer. The dab pen is heated through its battery, which in turn heats up the atomizer, thus melting the concentrate or cooking the flower inside. Sound familiar? Cool. Let's talk about induction.
Where Induction Cups Come In
We've talked about how induction heating works in vaporizers before, but to jog your memory induction heating uses an electromagnetic field as its power source, and the resulting energy is absorbed directly through the induction cups, generating heat! This field then heats the flower or concentrate material within the dab rig or vape pen. The Dr. Dabber SWITCH vaporizer is the first of its kind to use this concept to heat vaporizers and is one of the few products commercially available to utilize induction heating. This method then controls the temperature of the induction cups throughout the heating cycle with exceptional precision, heating oil and flower to desired temperatures and creating supreme vaping experiences.
Induction heating is widely regarded as the most efficient method of heating, heating up vaporizers in mere seconds and evenly heating the material throughout. We aren't exaggerating when we say that the SWITCH is often ready to use within 5 seconds of pressing "Go". Our induction cups heat significantly faster than any other heating method on the market-- because of the power of induction heating. Due to the evenness of the process, you can be sure that each vaporizing experience is consistent in packing the flavor.
Basically, Dr. Dabber induction cups become the source of the heat. This in turn ensures that the concentrate or flower is cooked evenly and more efficiently, meaning dabs retain all of their flavor and then some. The SWITCH's induction cup chamber is also outfitted to limit and seal off oxygen. The lack of oxygen during the vaporization process prevents combustion, allowing the concentrate or flower to heat without any concerns of burning, unlike traditional methods.
Choose Your Induction Cup
We offer a variety of different induction cups, each offering something unique to your vaporizer experience without sacrificing any quality.
The SWITCH's Titanium Cup is the base for all of our other cups. Designed for use with both oil and flower, it also allows a user to insert other cups for special circumstances.
Our Quartz Induction Cup was created specifically for use with oil and low heat flower. This cup is a great entry-level upgrade for SWITCH users as it provides top notch flavor, at a super affordable price. No wonder it's a best-seller.
Our Sapphire Induction Cup was designed to use with oil in the SWITCH and does not disappoint on flavor. Our Sapphire Induction Cups are prime because of their surface - clean and pristine for all of your oils and concentrates. However, the Sapphire loves to be treated with a little TLC and requires care to stay in the best shape possible. We DO NOT recommend using a torch to clean this accessory. Instead, wait for the Sapphire Induction Cup to cool down to room temperature, then simply wipe clean with isopropyl alcohol (our Iso-Snaps work great).
Next up on our induction cup line up is the Silicon Carbide (SiC) Induction Cup. Our SiC Cup is extremely durable, meaning you can use it under very high temperatures for higher temp dabs. Unlike the Sapphire, all the SiC needs for a basic cleaning is a simple torch. Fun fact: due to its greater thermal conductivity, the SiC Cup lets you get your desired heat, even at a lower temp setting.
For the flower lovers out there, check out the Leaf Induction Cup. This SWITCH accessory is designed to be used specifically with flower in the SWITCH's Leaf Mode. Featuring a medical grade ceramic coating on the heating surface, the Leaf Induction Cup provides optimal heat distribution with flower.
Finally, Dr. Dabber's Smooth Ceramic Induction Cup utilizes a ceramic dish insert to retain heat while still offering even heat distribution. The Smooth Ceramic Cup uses our Titanium Cup, much like our other induction cups, but this option is super low-maintenance when it comes to cleaning. Just wipe the insert with a q-tip once you're done.
There you have it. Now you know all about induction heating and vaping, including the DL on our very own quality dab rig accessories - Dr. Dabber's induction cups. Now, get out and spread the word about induction heating and why . You'll sound like a scientist!*
*results not guaranteed