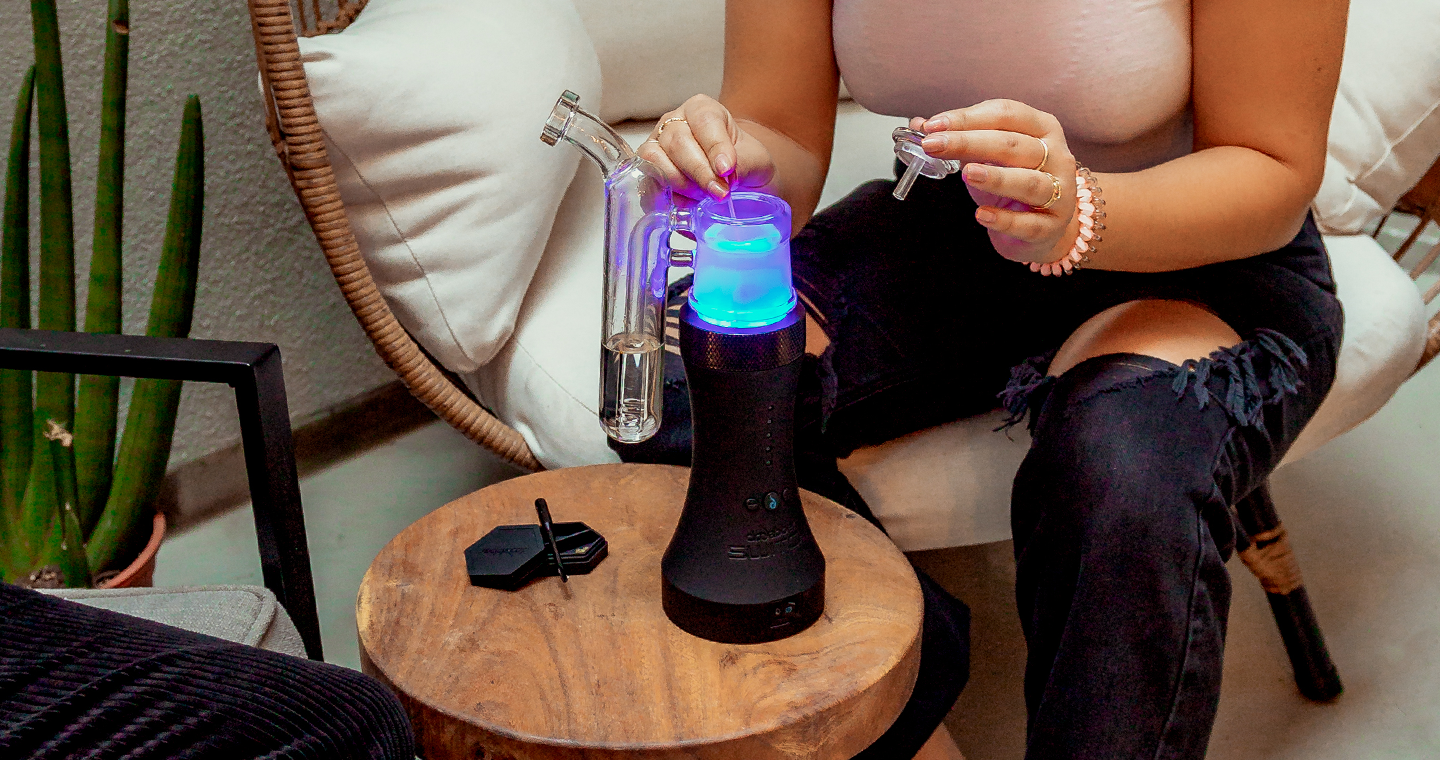 When you're searching for a smart rig, you already know Dr. Dabber is your go to option for the latest in e rig technology. But, Dr. Dabber's lineup has a host of out of this world vaporizer products, so what do you choose? We wanted to talk about the similarities and differences between our two hottest electric dab rigs–the SWITCH and the Boost EVO, so you can choose which one is right for you!
When you're searching for a smart dab rig, you already know Dr. Dabber is your go to option for the latest in e rig technology. But, wait. Dr. Dabber's lineup has a host of out of this world vaporizer products, so what do you choose? Today, we wanted to talk about the similarities and differences between our two hottest electric dab rigs–the SWITCH and the Boost EVO.
Both of these products are top of the line and customer favorites, but how can you make a choice about which one is best for you? Let's learn a little more about what makes the SWITCH and Boost EVO the best electric dab rigs and unpack some similarities and differences, so you can make the right choice about which smart dab rig you should buy next.
SWITCH
First up we have the SWITCH, a Dr. Dabber classic that will never go out of style. Since its release in 2018, this futuristic smart rig has made headlines everywhere, from Weedmaps to High Times to even Forbes. The SWITCH was created with proprietary technology, developed specifically by engineers as a top of the line product to go where e-rig technology hadn't gone before.
Boost EVO
The Boost EVO, launched in fall of 2020, was preceded by the first ever e-rig, the Boost. The Dr. Dabber Boost is the reason that the term "e-rig" was originally coined. The Boost EVO was calibrated with the feedback of tens of thousands of Dr. Dabber customers. Because of that, Boost EVO is a one of a kind evolution of Dr. Dabber's original e-rig made into something extraordinary. While it doesn't lose touch with its namesake, the EVO is an original in its own right, but we'll get to the details later. For now, all you need to know is that the Boost EVO is a metamorphosis, tying the future of the smart rig together with its origins in one neat package. For more info about the Boost EVO and its launch, check out our blog here.
We like to stay ahead of the competition and bring you newly updated technology at every turn.
Read on to see whether the SWITCH or the Boost EVO is best for you!
Similarities Between Our Electric Dab Rigs
Let's chat about the commonalities between the Boost EVO and the SWITCH. For starters, both of these futuristic smart rigs pack a powerful punch and will be sure to take your dab experience to the next level. Also, the Boost EVO and the SWITCH both come with multiple heat settings, and they can both be activated by the mere touch of a button. Just as with the SWITCH, the Boost EVO features pass-through charging, meaning you don't have to wait to use either of these smart rigs. You can hit them while they're on the charger! Last but certainly not least, both vaporizers come with everything you need to get started. We like to think that accessories and add ons should always be an option, but never a requirement.
So What are the Differences, Anyway?
What can you do with the SWITCH vs the EVO?
For starters, we like to think of the SWITCH as your go-to rig for at home use–think of it like your desktop vaporizer. One of the most important differences to recognize is that the SWITCH allows you to change course. The SWITCH operates as both an electric rig and a stand alone flower vaporizer, meaning you're able to switch back and forth between flower and concentrates–all with the simple flick of a "switch"–hence, the name. On the other hand, the Boost EVO is streamlined with one goal in mind–to give you the perfect dab. What this means is that you can make beautiful clouds from concentrates, but the Boost EVO is not meant for flower.
Temperature Settings
The Boost EVO and the SWITCH e-rig are both equipped with varying heat settings to give you the best experience possible, but there are some key differences. First, the Boost EVO comes with a built in temperature control sensor, meaning that your dabbing experience will be specifically calibrated to dial you in with precision and crank up the flavor. The Boost EVO also has six unique heat settings ranging from 500-750℉. The Dr. Dabber SWITCH comes with 25 specialized heat settings, operating from low temperatures of 300°F to high temperatures of 780℉. You can explore which SWITCH heat setting is right for you here.
Heating Up the SWITCH vs Boost EVO
In terms of heating up your smart rig of choice, if you're searching for speed, you'll want to try the SWITCH. With certain settings, the SWITCH will have you heated in as little as 4 seconds. But, if you have a little extra time you're not sacrificing much when you choose the Boost EVO, considering the Boost EVO takes a mere 11 seconds to heat up before you're ready to dab.
Let's Talk About Specs
When it comes to features of the Boost EVO and the SWITCH smart dab rigs, you won't be disappointed. The slick features of the Boost EVO are what make it really pop. Whether you're talking about its enhanced ergonomic grip pads for comfort, the quartz to glass vapor pathway, stealth mode, or its auto shutoff, you might find yourself daydreaming. But wait, there's more. If you're looking for something aesthetic, you've found it in the Boost EVO. Standing at 4" tall and 7.75" with glass attached, the Boost EVO is sleek and petite and can add a luxurious feel to your atmosphere. Right now, you can find the Boost EVO in sleek Eclipse Black or Moon White. The SWITCH vaporizer can also enhance your space with its 25 LED light show options. The SWITCH features customizable heating options, letting your heat setting last a tad longer, if you so desire. It also comes equipped with self cleaning mode and an auto cool down cycle to extend its lifespan and protect itself from overheating.
Charge Times and Cycles
You may be wondering, how does battery life compare between the SWITCH and the Boost EVO? Great question! The Boost EVO can last for up to 60 seshes on a single charge. Charging the Boost EVO takes less than two hours, but thanks to pass-through charging, it's not out of commission and can still be used while charging. The SWITCH is built for durability and because of this, it can last through up to 150 heat cycles and is fully charged and ready to go after one hour on the charger.
What's Included?
We couldn't go without addressing what's included with your e rig of choice. If you're looking to adapt and evolve with the Boost EVO, the kit includes your very own Dr. Dabber Boost EVO, a Boost EVO Quartz Atomizer, unique Replacement Glass Attachment, USB-C Charger, Quick Connect Adapter and of course, a Loading Tool. If you're committed to the SWITCH, this dual wax rig and flower vape comes equipped with Dab Tool and Carb Cap, Silicone Wax Container, Reverse Action Tweezers, Ceramic Flower Filter, White & Black Ceramic Induction Cups, and Quick Reference Cards in case you're in need of any additional support.
Heating Methods
The SWITCH uses induction heating. In simple terms, induction heating uses magnets to heat to target temperature. Induction heating in vaporizers is currently pretty uncommon among vaporizers, but we think it'll become more popular over the next few years. If you wanna learn more about this, check out our blog here. The Boost EVO, however, uses conduction heating–this happens when your oil or flower, in this case oil, is directly heated and then transformed into a smokable vapor.
Accessorizing Your Boost EVO or SWITCH
Now that you understand the difference in heating methods, we can get into accessories. Because the SWITCH uses induction heating, it doesn't require the use of atomizers. Instead, the SWITCH uses induction cups. We offer a variety of induction cups on our site (in addition to the induction cups that come with your SWITCH) including Silicone Carbide, Sapphire, Quartz, and more. Why is this significant? If cared for properly, you should never have to replace an induction cup, saving you lots of money in the long run.
Unlike the SWITCH, the Boost EVO does use atomizers, but we promise you this isn't your average atomizer… Boost EVO features a completely floating atomizer with a built in vaporization cup and heating element. No assembly is required on your part. The floating atomizer allows for more direct heat being sent to the vaporization cup, resulting in reduced heating times and improved temperature control. What's more is that the EVO's built in temperature sensor within the heating element allows for accurate feedback and additional temperature control. Between the combination of the floating atomizer, sealed atomizer design, and built in temperature sensor, Boost EVO's atomizer is revolutionary in the cannabis industry, and truly one-of-a-kind. It's also worth mentioning, we've built Boost EVO's atomizer to last. Unlike other atomizers which break or need to be replaced after a few months of use, Boost EVO's atomizer was designed to withstand anywhere from 6 months up to a full year of heavy usage.
While the SWITCH currently has a wide array of accessories to choose from including glass attachments, carb caps, and induction cups, the Boost EVO is a much newer release in our product line and doesn't have the expansive list of accessories the SWITCH has, just yet! No worries, we're working on this and hope to have some exciting new EVO accessories out this year.
Warranty
Rest assured when you buy a Dr. Dabber vaporizer. All of our vaporizers are covered by an industry-leading warranty, including the Boost EVO and SWITCH, ensuring that your product is up to snuff and works for you. The Boost EVO comes with a one year warranty, while the SWITCH warranty is for two years.
No matter which electric rig you end up going with, the Dr. Dabber Boost EVO and the SWITCH can be a game changer for your dabbing experience. You'll get a major upgrade with a touch of luxury, guaranteed. These vaporizers can turn your style and your experience up a notch. See for yourself and buy your next smart rig from Dr. Dabber!