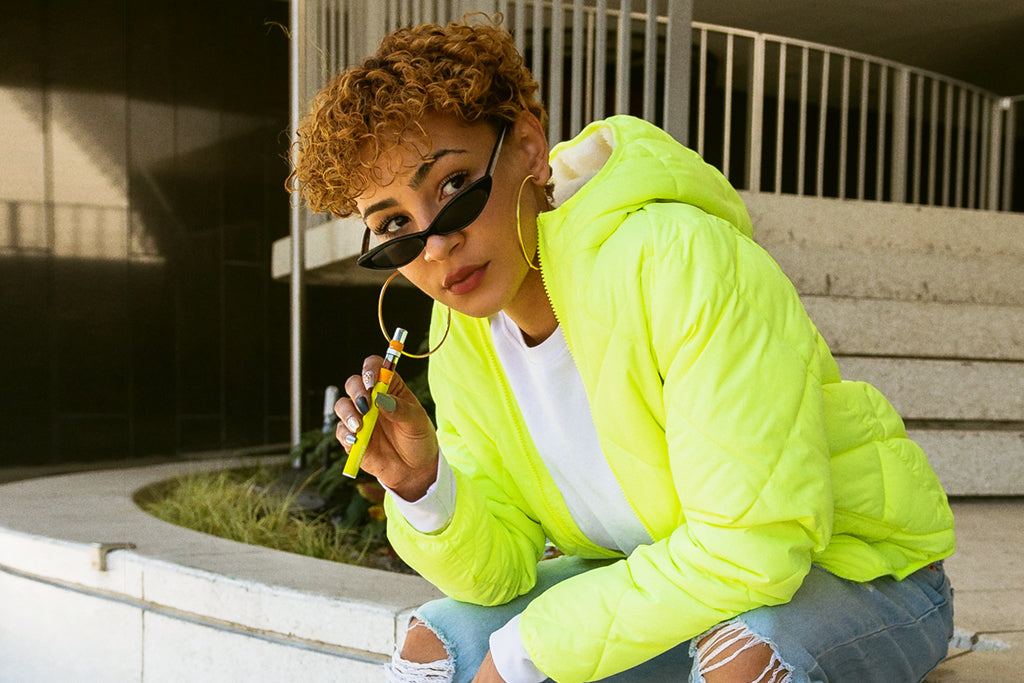 When deciding to vape CBD, there is a lot to learn about the differences between types of concentrates, but if you're thinking about it, look no further for a complete guide to CBD vaping.
Vaping CBD oil is an attractive option for many CBD users. With tons of options to choose from in terms of flavor, concentration, and equipment, vaping CBD is a method that gives the user a great amount of personal choice. Using CBD alone also won't produce the "high" from THC (a different cannabinoid) that is unfortunately still illegal in many places.
When deciding to vape CBD, there is a lot to learn about the differences between types of concentrates (more about that in our blog post here), but if you're thinking about vaping CBD, look no further for a complete guide to CBD vaping.


What Is CBD?
First things first, let's go over what CBD actually is.
The substance's proper name is cannabidiol, and it comes from the hemp plant we know as cannabis sativa. Unlike its relative, THC, CBD doesn't have any psychoactive effects.
CBD is often used in products like oils or edibles made for consumption or inhalation i.e., vaping. People use CBD for a number of reasons. Though we can't make any medical claims, there's tons of research looking to connect the dots between CBD and stress relief, relaxation, chronic illness symptom relief, and pain relief.
Thus far, CBD itself has only been found to benefit people. As a natural substance found in a plant, users are typically more comfortable with ingesting and inhaling CBD products instead of manmade medicines.


Hemp vs. Weed
Cannabis sativa has two main species: weed and hemp. Though these are often used interchangeably, they are two distinct species with different qualities. Both plants contain CBD, but hemp has a lot more than weed. Hemp also has a very low concentration of THC compared to weed.
Cannabinoids are not present in hemp oil, though people might think so. Hemp oil comes from the seeds of the hemp plant, unlike CBD oil which comes from the plant itself.


Can You Smoke Hemp Oil?
Smoking hemp oil products is always an option, but they're different from CBD oil. If you're wondering about the benefits of hemp oil, take a look at the beauty section of a natural-themed store. You may find hemp oil in beauty products or lotions due to its moisturizing qualities. Again, hemp oil comes from the seeds of the hemp plant instead of the plant itself.


Can You Smoke CBD?
You can use a portable dab pen like the Dr. Dabber Stella, or burn dried hemp plant directly in a joint to smoke CBD. Both options create at least some form of smoke to inhale. Smoking is not only the most bioavailable option (meaning that your body will utilize the most CBD possible), but it also has the most immediate effect on users, working in just a few minutes.
When smoking CBD, the substance in the form of smoke goes from the lungs to the bloodstream almost immediately, and then travels around your body. Within three minutes of smoking CBD, the cannabinoid reaches its highest concentration in your plasma.


Can You Vape Tincture?
Before purchasing any cannabidiol vape products, it's important to understand how to vape safely. A common confusion that people come across when deciding to start vaping is the difference between CBD tincture and CBD oil.
CBD oil and CBD tincture are often used interchangeably, depending on the context. When most people think of CBD oil, they think of a small bottle containing a mixture of CBD and other ingredients, similar to an essential oil.
However, there is a big difference between oils and tinctures. By definition, CBD oil refers to CBD-rich hemp flower extract. CBD tincture refers to a finished product that contains CBD oil along with other ingredients, such as flavoring.
The difference is that CBD concentrate, or oil, only contains the substances that are naturally part of the cannabis flower. CBD tinctures, alternatively, feature ingredients that could hurt the lungs if inhaled. The packaging can be confusing, but the difference is there.
The answer to the above question is always no. While vaping CBD tinctures may seem appealing due to their flavoring and portability, doing so can cause significant damage to your lungs. The distinction between vaping versus ingesting CBD oil is very important to understand.


Can You Smoke Hemp Oil In A Vape Pen?
By definition, you technically won't be smoking, but you can vape hemp oil in a vape pen. Dab pens like the Dr. Dabber Ghost and Dr. Dabber Light are perfect for this.
The purpose of a vaporizer is to take a liquid and turn it into vapor to be ingested. CBD is just one substance that can be vaped, along with hemp oil.
It's important to note that if you do decide to vape CBD, make sure to find a safe vape pen that is reputable. The Dr. Dabber CBD line, for example, is made with US grown hemp and designed with the highest quality ingredients. All cartridges are lab tested for quality and we include batch-specific lab results not only on each cartridge's product page on our website, but also on all CBD packaging via QR code. We launched our CBD line in 2019 with the marketing campaigns, "No Fillers, Just Flavor" and "What's In Your Cartridge?" because we believe people should have a product they not only love, but trust.


Can Hemp Oil Be Vaped?
Hemp oil or hemp "juice," is completely safe to vape. Using CBD oil for your vape pen or vaporizer is a commonly chosen option among cannabidiol users.
CBD vape oil is mixed with a carrier liquid to thin the oil and then processed for use in a vape pen. The product usually comes in pre-filled cartridges that can be screwed onto your vape pen for vaporizing and inhaling.
There are three types of CBD vape oil available for use:
Full-spectrum: This kind of vape oil contains other cannabinoids like THC (but must be in very small amounts to be legal)

Broad-spectrum: This kind includes other cannabinoids and safe chemicals, but not THC. Dr. Dabber CBD is broad-spectrum distillate.

CBD isolate: This form contains only CBD and is the purest form of the substance.
Each of these products produce similar effects when used. The differences between them come down to which compounds they contain. For example, as far as we know, vaping CBD isolate does not produce any differing effects from vaping full-spectrum CBD.
Does Vaping CBD Oil Get You High?
Since THC is only contained in CBD oils in small amounts, if at all, vaping CBD oil will not produce the "high" commonly found in THC products.
The legal amount of THC that can be contained in any sort of CBD oil or product is 0.3% or less. This is hardly enough of the substance to produce any sort of intoxicating effect.
While vaping CBD oil has many of the benefits associated with getting high, it won't produce the classic high that people think of when referring to weed.


What Does Vaping CBD Feel Like?
Some people can hesitate to try vaping CBD because they don't know the effects or what it will feel like. However, there's nothing to be scared of.
Effects of CBD vape oil vary from person to person. Also, factors like the amount of CBD used and natural sensitivity also come into play. However, what's most important to understand is that CBD alone will never produce the "high" that can make some people paranoid or uncomfortable.
CBD is just one of over 100 cannabinoids found in cannabis plants. Another common and well-known one is THC. As stated before, THC is the cannabinoid that is known to produce the euphoric high associated with cannabis use.
When using CBD vape products, you can expect to feel a little relaxation if that's what you're using the product for. But don't worry about getting high, as the amount of THC in hemp products is typically less than the legal amount of 0.3%.


Are CBD Gummies Stronger Than Vaping?
CBD gummies or other edible products are also a popular choice among CBD users. It's easy to pop a few gummies in your mouth before leaving the house for the day. Gummies have a few advantages, including prolonged effects, variety, and discretion.
Ultimately, the method you choose for using CBD can change your experience greatly. This makes it highly important to choose the method that suits you best. Both consuming gummies and vaping CBD let you enjoy the benefits of the cannabinoid, but the effects can vary.
Edibles provide prolonged effects as they build up in your body as well as greater discretion than the visibility of vapor. However, vaping CBD provides almost instant relief and can be more affordable. Neither one is necessarily "stronger," as concentration determines how profound the effects are. It really just depends on personal preference. Overall, vaping CBD can be a viable option for people already acclimated to vaping or who are looking for a convenient CBD consumption method that takes effect quickly.
CBD products come in many forms, including gummies, oils, and of course, vape juices. Choosing the best CBD option for you is mostly based on personal preference and experiences with each product.