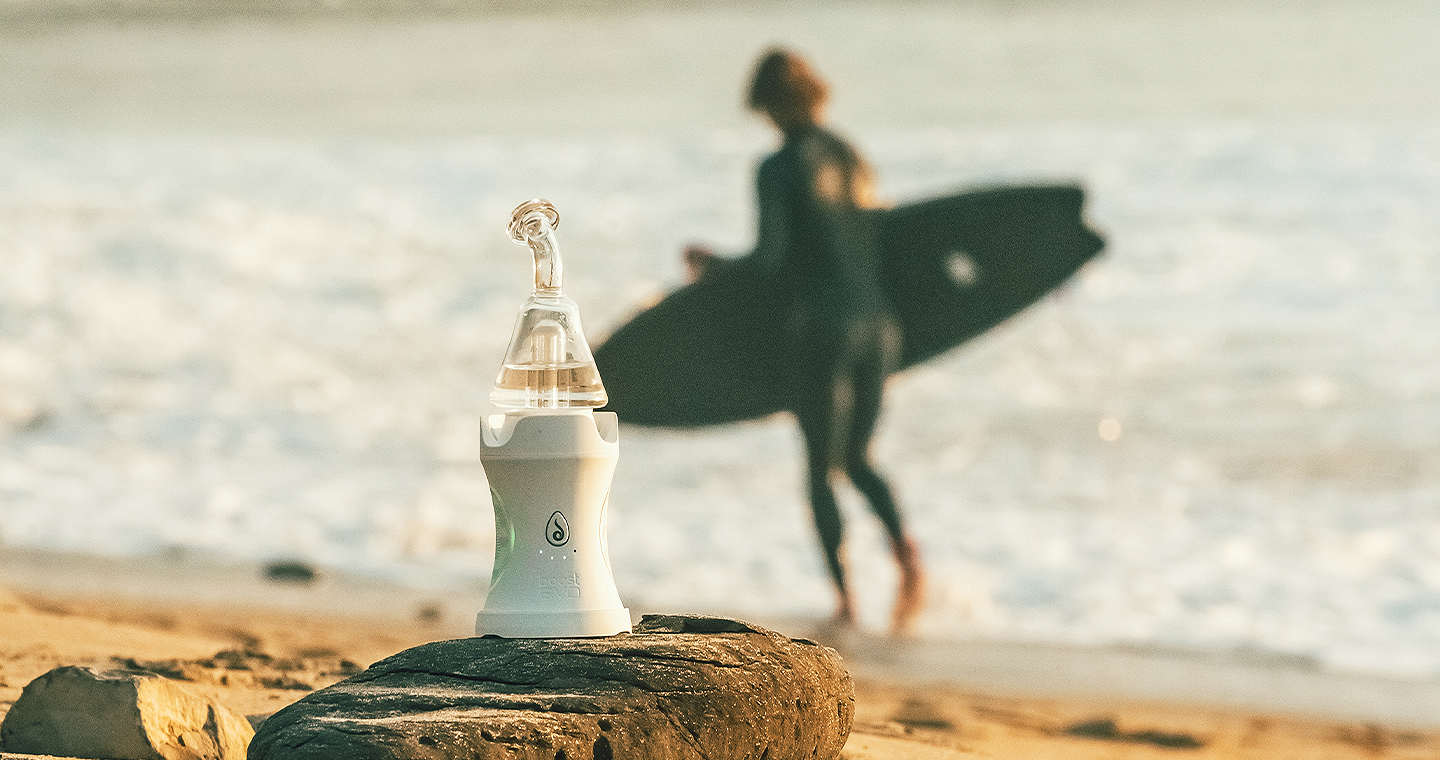 If you're looking to dab on the go, you'll want to have the right rig on hand. There are a few key features to look for when it comes to a portable rig so we're covering al the bases in our latest blog post.
Dabbing is known for being a far more involved process than other methods for consuming THC. There are several components involved, including the device, the nail, the torch, the accessories, etc. So, how do you make something like this portable? Personally, we think that our rigs are the best solution to this problem, but we're going to cover all the bases when it comes to dabbing portably!
Things to Look For in a Portable Dab Rig
If you're looking to dab on the go, you'll want to have the right rig on hand. There are a few key features to look for when it comes to a portable rig. Below are the most important aspects to consider before investing in a portable dab rig.
Compact Size
The smaller the electric dab rig, the easier it is to use on the go. A fully operational dab rig may not be pocket-sized, but there are some options on the market that are similar. While a pen might be a nice option, it doesn't offer the same functions that an erig can provide.
If you're looking at a rig because of its compact size, consider the height of your palm. This is the best size for your ideal portable rig. They're easy to pack away and put into a small backpack or pouch without being too conspicuous.
Cleanability
When you're looking for a rig, of course you want to look for something that's easy to clean. Rigs that are too small can be difficult to clean, while a cheaper device often has gaps that can collect unwanted residue and grime over time. You don't want to purchase a rig that's so small that cleaning becomes a pain, and you don't want one so cheap that it's designed poorly. Be sure to keep your device clean for the optimal dabbing experience, too.
Versatility
Not all rigs are made the same. You'll find that most dabbing rigs are only able to vaporize one thing and one thing only. This means that your THC consumption becomes limited, which can be a real drag. If you want more options, you'll likely want to go with an electronic dabbing rig.
A few electronic dabbing rigs, including our Dr. Dabber SWITCH, offer users the ability to vaporize both concentrates and leaf products. This means that no matter where you find yourself, you'll be able to find a form of THC that can be utilized in your device. We highly recommend a rig for anyone who wants to dab on the go, as well as a few key accessories to really broaden the horizons when it comes to THC consumption.
Traditional Dab Rigs vs. Electronic Dab Rigs
Traditional dab rigs and an electric dab rig both serve one purpose: delivering the user of the rig a strong way to consume their THC. That being said, it's important to know which one you should use, especially when it comes to portability. Let's take a look at each.
Dab Rigs
Portable dab rigs look similar to a bong. They're normally made of glass and consist of several pieces. These pieces are as follows:
The rig itself, which is normally glass, has a chamber to hold water, and a mouthpiece. In addition to glass, you can find silicone rigs too.
The nail is what the THC concentrate is vaporized on. They're made of all sorts of materials, each of which has its own properties. The most common materials are quartz, glass, ceramic, and titanium. E-nails are also available, and they heat themselves with a heating element, eliminating the need to carry a torch for heat.
The torch is the component that heats the e-nails. Torches are normally fueled by butane. They superheat the e-nail, allowing the THC concentrate to vaporize almost immediately.
E-Rigs
An electric dab rig is a bit more convenient than the original dab rig, in our opinion. E-rigs are an all-in-one solution when it comes to dabbing. They eliminate the need for a torch and an e-nail, being that the THC is vaporized using battery power.
Because these rigs operate in a different manner, they tend to take up less space than an original dab rig. This means that they're typically the better option when it comes to portability. It also means that instead of lugging around the essential pieces of your kit, you can carry around accessories that make dabbing more enjoyable overall!
Other Items You'll Need for Your Kit
If you're carrying a rig setup, you're going to want to pick up a few other key accessories to make the experience complete. These are all important when you're on the go and looking to use your rig.
Rig Carrying Case
If you're carrying your rig around with you, it makes sense to keep it in a secure carrying case. It doesn't matter if it's a regular rig or an electronic rig; keeping it protected with a case is key in making sure that you can keep on dabbing. Consider picking up a soft-sided or hard-sided case that's just a bit larger than the rig and padding it with foam. This will keep it from being jostled during travel. This is especially important as it keeps the glass from being cracked or broken in transit. A carrying case for your rig is a necessity.
Since we know how important it is to keep your portable dab rig safe, we design packaging for our erigs to also function as durable and protective carrying cases.
Silicone Case for Concentrates
If you're dabbing, you know that concentrates can be a bit messy. They're oily or sticky in most cases, and some products will crumble easily, which can make a big mess. To prevent this, having a silicone case for your products is a must. Silicone is the best material to store your concentrates in as it prevents the loss of any material being stuck to the sides since the material itself doesn't allow for it. Additionally, silicone is durable and easy to come by.
For the same reason that you'll want a silicone case, you'll want a dabbing tool, as well. Concentrates can't be handled easily by hand since they're so sticky and oily. You'll want to pick the right tool for your on-the-go kit, and it'll need to be based on your material of choice. If you are someone who likes to use crumble or shatter, you'll likely want a double-sided tool with a pick and a paddle. If you use oil more often, be sure to grab a dropper, as it'll make things much easier.
Silicone Mat
Just like a silicone case makes for easier cleanliness, a silicone mat helps prevent any cleanup from spills or drops. Silicone mats are great because they roll up and are more compact. We recommend the Dr. Dabber Honeymat, made of platinum grade silicone.
Cleaning Kit
A clean rig makes for a better experience. If you keep your rig clean, you'll reap the benefits, which include more flavorful dabs, as well as a more effective e-nail. Keep some swabs and alcohol pads in your portable dabbing kit or better yet–stock up on our Iso-Snaps. They're a convenient all-in-one solution to clean your vaporizer, nails, and glass.
Keeping your setup clean is especially important if you use your portable rig infrequently. No one wants to head into a session and find a dirty mouthpiece or e-nail.
5 Reasons Why an Electronic Dab Rig Is Your Best Bet
If you need a portable dab rig, then you need to be looking at an electronic dab rig. These are going to be your best option for the five following reasons.
1. Less to Carry
E-rigs are an all-in-one kit. You don't need to carry a torch and an e-nail, as the rig has both of those things built in! The most you'll need to carry is a mouthpiece and maybe a few accessories. Still, compared to the fact that a regular rig needs three separate items to work in the most basic sense, you'll get more by carrying less with an e-rig.
2. Compact in Nature
E-rigs are almost always smaller than regular rigs. There are some regular rigs that are smaller, but when you consider all of the things you need to carry to use them, they take up just as much space, if not more.
3. No Fire
An electronic rig doesn't need a flame! This provides invaluable convenience, especially while traveling. The fact that you don't need to carry a torch means that the rig is more inconspicuous than a regular rig. It also means that you don't have to keep a volatile fuel on you to use it! Electric dab rigs are the best way to add portability to your dabbing routine.
4. Double Up on Product
Some electric dab rigs and portable dab rigs let you vaporize concentrates and dry herb, like the Dr. Dabber SWITCH. That means that you have fewer limitations on your consumption of THC, which means that supply and demand don't rule your routine when you're away from home! You can find whatever product you like to use, and if it's not available, you can find a replacement easily.
5. Less to Break
Traditional rigs are mostly made out of glass. Yes, you can find quite a few options that are silicone, but you're going to pay a premium for them. Electric dab rigs have glass components, but the bodies are going to be made from more durable materials because they have to house the electronic components. This means that during travel, you'll have less to break! You're going to be more likely to fracture or crack a traditional rig in a way that makes it unusable than you are an e-rig.
In a League of Its Own
After years of research and development, we've created what we think is the best portable dab rig on the market, the Boost EVO. You may be familiar with the Dr. Dabber SWITCH. Well, now meet The Dr. Dabber Boost EVO. Both the Dr. Dabber SWITCH and the Dr. Dabber Boost EVO have everything that you need, but the Boost EVO has everything you're looking for in a portable dab rig, and we've spent a lot of time with the dabbing community to make sure that it's perfect.
The follow-up to the Dr. Dabber SWITCH, the Dr. Dabber Boost EVO is a product that we're immensely proud of. We wanted to achieve one thing, and one thing only with this product: the perfect dab. Because we had such an ambitious goal, you can be sure that we included the entire community when it came to the development of the Boost EVO. Using the feedback of the community, we dialed in all of the settings and specifications for the Boost EVO, resulting in the perfect portable rig.
Dabs the Way YOU Want Them
The Boost EVO eliminates the need for guesswork. You don't need a torch, and you don't need an e-nail. All you need is your ideal temperature settings, and the Boost EVO will do the rest. We developed a temperature control sensor that you can't find anywhere else. While electric dab rigs and portable dab rigs guess the temperature based on how long power is fed to the e-nails, the Boost EVO knows when it has reached the optimal temperature and stops promptly. You won't see temperature control in any other rig the way that you'll see it in the Boost EVO.
We took the feedback from tens of thousands of individuals who owned the first Boost, and we made six preset heat settings for the heating element in the Boost EVO. This, in combination with the heat sensor, means that you're getting the perfect dab with every use.
Let's Talk About Portability
You want a portable rig, right? Well, you've got it with the Boost EVO. This rig is small but powerful. When the glass is removed from the Boost EVO, the base only stands 4 inches tall. You could fit this little beauty into a fanny pack if you wanted. With the glass placed on top, it only stands 7.75 inches tall. All that, and it's less than three inches around. You can take the Boost EVO anywhere that you can imagine. It's the portable best e-rig that you're looking for, and it fits in the palm of your hand!
Battery Power That You Can Rely On
One of the features we love most about this portable e-rig is its battery operation. The Boost EVO only takes 11 seconds to heat up using its rechargeable battery. The battery used in the Boost EVO is powerful, too. It has to be with a heat-up time as short as 11 seconds! On a single charge, the Boost EVO will last for up to 60 cycles, meaning that you're ready to have a session anywhere and any time.
But what if the battery dies? Don't worry, we thought of that tool. We aren't all great about remembering to charge our devices, so we enabled pass-through charging on the Boost EVO. That way, if you run out of juice right before, or even during, a session, you can plug it in and keep on going! The Boost EVO can be used while it's plugged in. And to save on battery life, it has an auto-shutoff that happens after 15 minutes of sitting idle. The Boost EVO lets you keep dabbing whenever you want.
Compact & Discreet
If you want a rig that looks slick and discreet, you'll love the Boost EVO. It comes in Moon White and Eclipse Black and looks inconspicuous, especially when it isn't being used. And while it comes with great RGB ambient lighting, you can turn that feature off to keep things discreet when you need to.
Maybe you want something that stands out. If you want that in your portable rig, enable those RGB lights and set the mood during your sessions!
What Comes in the Box
When you order the best portable dab rig on the market, you'll get more than just the rig for a fair price. First and foremost, you'll get service from a company dedicated to making sure your dabbing experience is the best that it can be. We care about making your life easier when it comes to dabbing, and part of that is providing support to our customers when they need it. Rest assured when you invest in Dr. Dabber, as we back all of our vaporizers with an industry-leading warranty and the Boost EVO is no exception. When it comes to the accessories included with the Boost EVO device, check out the list below!
Key Takeaways
If you need a portable rig, you'll want something compact and versatile. When it comes to the best portable e-rig, we've got you covered with the
Boost EVO
. Our top-selling e-rig was designed with the user in mind and delivers the perfect dab each and every time. The best part about it? It's easy to bring with you wherever you go!
Pick up a Boost EVO today
.