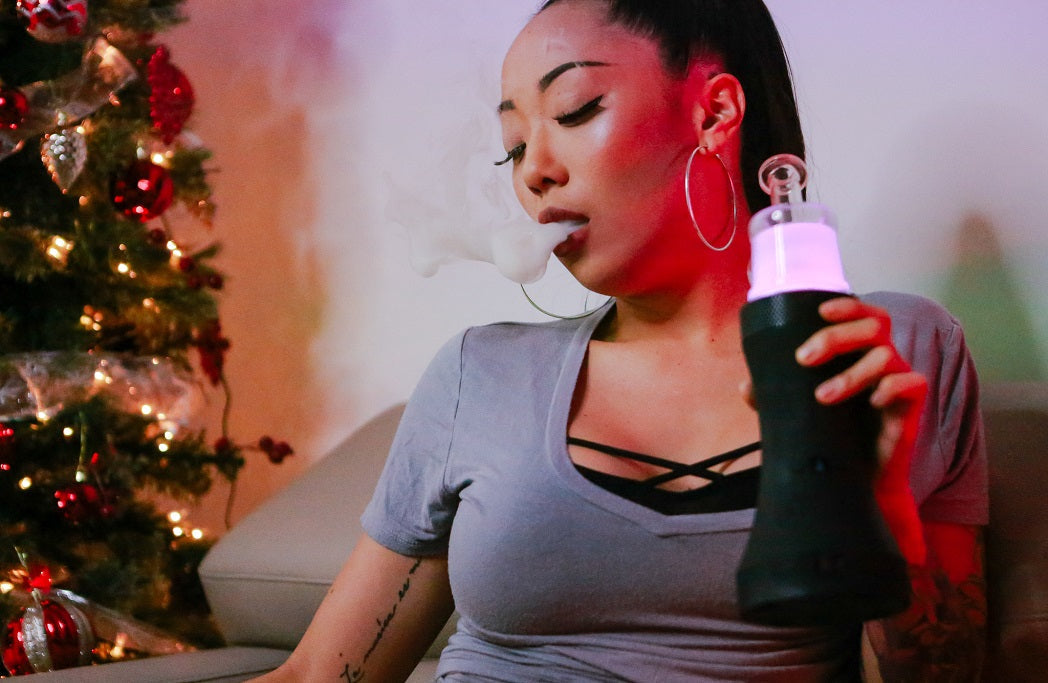 In search of a last minute gift for that special stoner in your life? Dr. Dabber's got you covered. We're all for spreading a little holiday cheer, so sit down, load yourself a dab, and check out our 2020 Holiday Gift Guide. 
Happy Holidays! If you're looking for a last minute gift - whether it be a portable vaporizer or any vape accessories - for that significant stoner in your life, no worries. Dr. Dabber's got your back. We're all for spreading a little holiday cheer, so sit down, load yourself a dab, and check out our 2020 Holiday Gift Guide.
First up on our Gift Guide is our brand new treat, the Boost EVO. If you know any die hard Dr. Dabber fans, this may be the only way to get them a gift they might not already have. The Boost EVO was built from the ground up with one goal in mind: the perfect dab.
Created with proprietary technology, the Boost EVO includes a patent-pending temperature control sensor, which could be perfect for any of your friends who might otherwise be a little too happy to heat past the point of perfection and help them out to dab at the perfect temperature. The Boost EVO's six heat settings were calibrated to perfection thanks to customer feedback - from people like you! - helping us to dial the temperature to literal perfection, meaning you or your giftee will get a consistent experience each and every time.
When we say adapt and evolve with the Boost EVO, we mean business. The EVO is truly the future of the eRig, equipped with Dr. Dabber's revolutionary magnetic quartz atomizer, built-in temperature sensor and exceptional battery life. Pair all of that with enhanced ergonomics and a heat up time in mere seconds, we understand why it might seem too good to be true. We want you to see for yourself, so the Boost EVO even comes with a one year warranty.
With the Boost EVO Kit, you get to vape and accessorize. This inclusive kit comes with the Boost EVO, the Boost EVO Quartz Atomizer, Boost EVO Replacement Glass Attachment, Boost EVO USB-C Charger, Boost EVO Quick Connect Adapter, and of course the Boost EVO Loading Tool.
The Boost EVO is the perfect gift. Treat yourself or a loved one this holiday season to our newest vaporizer.
A fan favorite, you can bet on the Dr. Dabber SWITCH to deliver this holiday season. With revolutionary, patent-pending induction heating technology, the SWITCH is the go-to, whether on the go or for use as tabletop vaporizer and for oils and flower alike. The SWITCH is a one of a kind vaporizer, unmatched in versatility. In fact, according to Weedmaps, it's "worth it for anyone who is looking to take their dabbing to the next level of comfort and precision."
The SWITCH takes it up a notch, able to be used up to 150 times on a single charge alone. It also only takes about 60 minutes to fully charge back up, meaning you can take it with you in no time. In case you're not sold yet, the SWITCH is also designed with 25 unique temperature settings, for those who have ultra specific tastes, who utilize lots of types of extracts, or those who like to switch up their experience. We're not picky.
The SWITCH can also get you or a friend the clouds and flavor you've always dreamed of. As we mentioned in our blog post, "How to Get Bigger Clouds & Flavor From Your Vaporizer", the SWITCH maximizes airflow while minimizing oxygen, creating the perfect balance for your flow and packing big vapor clouds and all the heat you need as a result.
You know we'd never leave you hanging, so of course the SWITCH comes in handy with plenty of essential dab rig accessories. The SWITCH kit includes a dab tool, carb cap, silicone wax container, reverse action tweezers, ceramic flower filter, and quick reference cards for convenience sake. But we're all about amping up the accessories in this year's gift guide, so read on if you're looking for more great recommendations to play up your SWITCH and other devices!
Dr. Dabber's Stella vaporizer is ringing in its first holiday season, and we're sure Stella will be around for a long while. Stella is the vape pen of the future, loaded with major improvements all neatly packaged into a signature black stainless steel body. Stella's already used to the holiday limelight, recently being featured in High Times' vaporizer holiday gift guide. The Stella dab pen was also named one of 2020's Best Weed Vaporizers due to its "intuitive and easy to use" and "practically indestructible" nature.
The Stella is the perfect portable vaporizer for dabbers on the go. This supreme vaporizer pen comes equipped with pass-through charging, 4 various heat settings, and a TCR heating element to eliminate burnt hits. This holiday season, you'll be bound to light up the face of the stoner you love when you give the gift of the Stella.
If you're shopping for a friend who may not be THC inclined, a CBD vape pen kit makes for the perfect accommodation. Check out our CBD Tester Kit which includes all four blends of our CBD Distillate Cartridges, for a special bundle price that reflects 25% savings.
The CBD Tester Kit is nothing short of a sweet deal and comes fully equipped with four vape cartridges loaded with Dr. Dabber's signature terpene blends. Our Original Blend is first on the list and packs notes of citrus, candied fruit, and sour seeded berries. The flavors are subtle, yet satisfying - defying expectations for any recipient of this holiday special. Next, the tower offers the Citrus Blend, which features hints of Florida orange blossoms and honeysuckle, complemented by notes of grapefruit, lemon and lime. The CBD Tester Kit also includes our Robust Blend, which bursts with flavors like bourbon, violet and earth; this terpene profile is complex and perfect for the friend who enjoys a savory experience. Finally, the Fresh Blend brings the Kit back to earth with flavors of pine, mint, cucumber and fresh cut grass to remind you of a warm, refreshing day.
Satisfy your hemp happy friends this holiday season and bring forth the gift of broad spectrum cannabinoids courtesy of Dr. Dabber.
'Tis the season to accessorize, so you know we had to include the Budder Cutter on our gift guide. Dr. Dabber's Budder Cutter is a heated, multi-use dabbing device, perfectly equipped to handle sticky, or otherwise hard to manage oils and waxes. The Budder Cutter is built differently, with a heat source carefully calibrated to avoid overheating and reduce the risk of burning or vaporizing. Meanwhile, the Budder Cutter is designed to minimize heating time, in an effort to ensure precision and offer the ideal temperature for a perfect cut.
We're all about multifunction at Dr. Dabber, and our Budder Cutter is no different. This nifty tool also acts as a heated loading tool for our dab pens, but that's not all. You can clean out built up wax from your vape pens or dab rig with the Budder Cutter, too. With seven unique heating tips, the Budder Cutter is versatile and well suited for any of the dab connoisseurs in your life.
If you're hunting for the perfect gift for a loyal dabber, the Budder Cutter meets all expectations and more.
Maybe you're in the market for a quick stocking stuffer. Look no further than Dr. Dabber's Iso-Snaps. Our best-selling Iso-Snaps are the best method to clean our vaporizers, nails and glass. Not only are our Iso-snaps an extremely affordable gift for your dab rig loving pals, they're also remarkably easy to use.
With a quick snap, each of our Iso-snaps releases its preloaded isopropyl alcohol directly into the bottom cotton swab head. Then, all that needs to happen is a simple wipe to the surface of your glass, vape or nail and boom! Good as new. Unlike some methods, the Iso-snaps negate the need to torch-clean after use. Each Iso-Snaps pack comes 24 deep, all together in a travel sized case.
The SWITCH is on the got-to-have list this holiday season, but we cannot recommend enough that you spruce it up and grab the SWITCH: Silicone Base. Your dab rig has got to have space for accessories, and the SWITCH: Silicon Base fulfills that requirement with ease! Perfect for all of your dabbing needs, the SWITCH: Silicone Base is made to be a multifunctional tool. Not only does the silicon base cradle your SWITCH, it's also got several spots to stash your various dab wear essentials like your Dr. Dabber induction cups, Iso-Snaps, and more all in a neat and convenient fashion.
Shopping for someone who already has a SWITCH? The SWITCH: Silicone Base, should definitely be on that list.
Switch up your accessory collection with the SWITCH: Ball Attachment. The Ball Attachment is an affordable dab accessory, making for a perfect gift for your SWITCH loving friends, but is also a perfect way to treat yourself to something new. Though the SWITCH is already well known for its smooth hits, the Ball Attachment simply adds additional assurance that you'll be taking the most enjoyable rips possible, all while sporting a new functional and unique attachment. Meanwhile, Dr. Dabber's Ball Attachment offers a sleek design all while taking you and your friends to the next level.
That's a wrap on our list! If your cart is already stocked up on all these fantastic Dr. Dabber products, we don't blame you. Feel free to check out our other great products here. Happy Holidays!