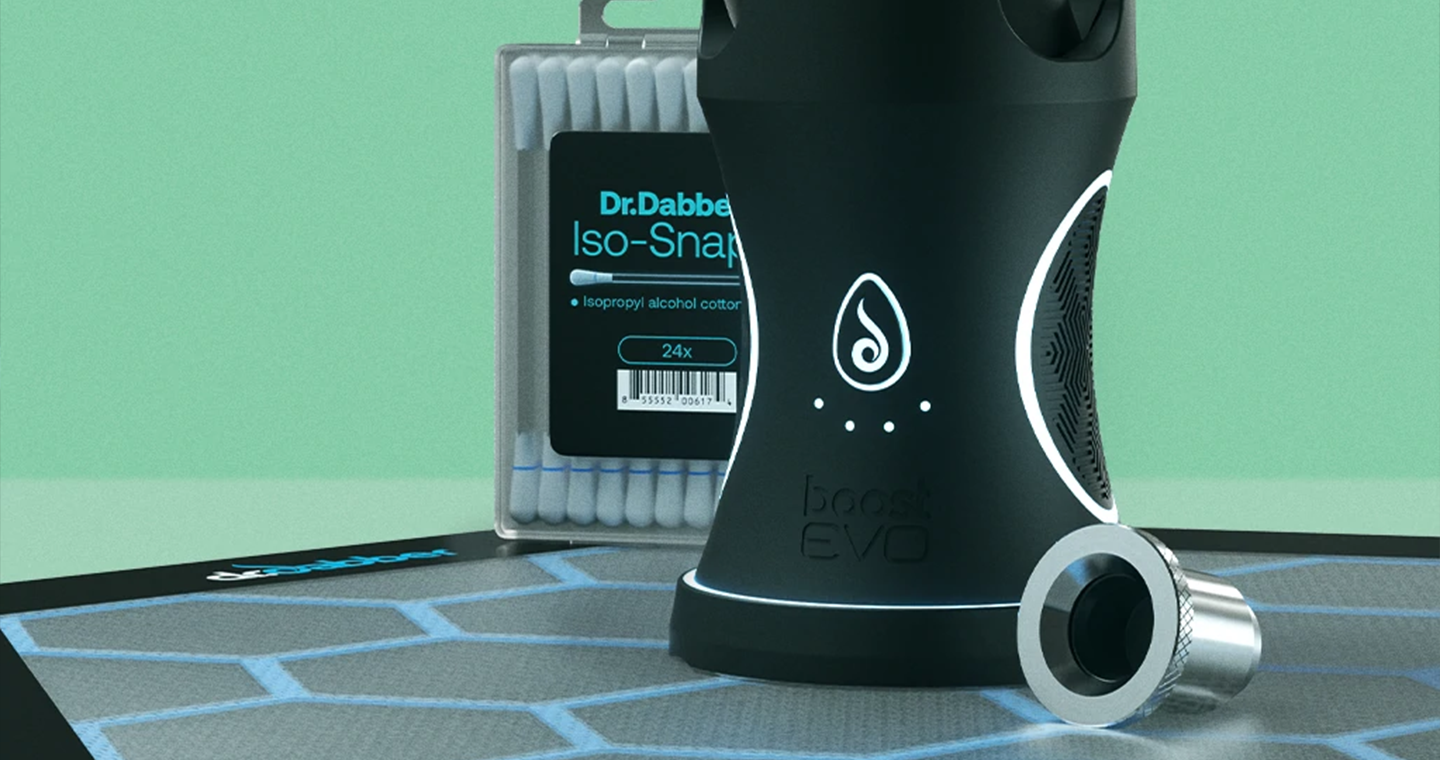 When it comes to dabbing, sometimes all of the options become a little intimidating. The process itself can seem difficult for people who are new to dabbing. We're here to explain all of the dabbing accessories and essentials to you, as well as how to choose the best starter kit. Keep reading to find out more!
When it comes to dabbing, sometimes all of the options become a little intimidating. There are plenty of different rigs available, as well as tons of different accessories. On top of that, the process itself seems difficult for people who are new to dabbing. All of the moving pieces make it seem harder than it really is to make the right purchase.
If you're facing some of these issues, have no fear! We're here to explain all of the dabbing accessories and essentials to you, as well as how to choose the best starter kit. Keep reading to find out more!


What's a Dab Rig?
A dab rig is a piece of equipment used for smoking THC concentrates. They look similar to a traditional water bong but are a bit smaller in size. A dab rig can be specialized for smoking specific concentrates, like wax or oils.


Two Different Kinds of Dab Rigs
There are two distinct types of dab rigs available, the traditional dab rig and the electronic dab rig (also known as an e-rig). When you're comparing the two, the biggest difference you'll find is in the operation of the rig itself.
Traditional Dab Rig:

A nail is made from a heat-tolerant material. It's then superheated using a torch, and concentrates are placed on it for vaporization.

Electronic Dab Rig:

The nail is heated through the use of electricity. This eliminates the need for a torch, and it makes the process a bit safer overall. This kind is also less likely to break.
The electronic dab rig is becoming more prevalent these days with the advancement of technology. We patented the first e-rig, and many have come after it in imitation.


Which Should I Choose For My First Dab Rig Kit?
If you're just getting into dabbing, we recommend going with an e-rig. E-rigs are the best way to enjoy dabbing to the fullest extent. This is because they allow for a lot more opportunities to experiment and find the perfect hit. You can regulate temperature with an e-rig more closely, letting your experience be fully customized to your preferences. Take a look at some of our other information about e-rigs to learn more about why they're the perfect way to get into dabbing.


Dab Rig Starter Kits: Where to Start?
When you look at all of the options for buying a dab rig starter kit online, you're bound to notice that there are plenty of options. It's hard to know where to start. As such, we've taken a look and can recommend what supplies a starter dab kit should come with. These are important for your overall dabbing experience, of course!

The Rig
The rig is arguably the most important part of the dab kit. It's what you'll be using to inhale your vaporized concentrates. Now, depending on what you want to smoke, you may need to choose a different rig. This is all dependent upon the versatility that you're looking for. Overall, you want to make sure that the rig is durable, and that it's highly rated. Other people should be enjoying the use of this piece.
One thing to note about versatility; some rigs are capable of smoking concentrates and plant material like the Dr. Dabber SWITCH. They may just need some extra pieces. If you want to have a multi-use rig, be sure you know what it is capable of handling.


The Torch and the Nail
Now, while we recommend picking an e-rig up, there's a chance that you'll be looking at a traditional rig, as well. If you are, you need to make sure that the starter kit you choose comes with a torch. The torch that is included should use butane as fuel. This is the fuel that you'll need to use to get your rig's nail as hot as possible.
Speaking of which, an e-rig doesn't have a nail, otherwise known as quartz bangers, but no need to worry about it! It's all self-contained. So, if you're looking at traditional rigs, make sure you're getting a high-quality nail. The nail should be made from a material like quartz glass, ceramic, or titanium. These are all heat-resistant materials, and they stand up to constant heating and cooling. The most popular option is glass, but they're the best option for a traditional rig setup.


Concentrate Storage
Concentrates can be a sticky mess. They're waxes and oils, making them a bit unruly at times. As such, you'll want some way to store and transport these materials. A good starter kit knows how messy the process can be. It should come with a way to store your concentrates like our Silicone Shatter Jar. The most common material for this is a silicone dish. Silicone is completely non-stick. This means that after the concentrates go into the silicone dish, you won't have to worry about losing any that gets stuck in there.


The Dabbing Tool
A dabbing tool is necessary for any dab kit. It's the easiest way to move your concentrates from where you store them to the rig. A dab rig kit usually comes with a basic two-sided tool. This tool has the pick and the paddle. Each one is used for different concentrates, depending on their consistency. Make sure your kit comes with a tool. Not to worry, all Dr. Dabber vaporizers come with a dab tool but if you're looking for an extra, we also sell them separately on our website here.


Cleaning Supplies
One of the things that people enjoy the most about dabbing is the flavor. Concentrates are full of terpenes, making them high in flavor in most cases. Many things can affect the flavor of your dabs, including the cleanliness of your rig. As such, cleaning your tool frequently is a must. There's an entire process to cleaning a rig, and if you want to know more, you can check that out in one of our recent blog posts here.
At a minimum, the kit you're looking at should include a means of cleaning your rig. This can include some cotton swabs and isopropyl alcohol, or just isopropyl alcohol wipes. We prefer Iso-Snaps, which are conveniently already prepared for you. These eliminate an entire prep step to cleaning your rig.

Dab Rig Kit Accessories
Oftentimes, a dab rig kit includes a range of supplies to make them more appealing. Not all of these supplies are the most useful. If you're buying a kit based on supplies alone, then there are a handful that you should look into. These are all items that can enhance your experience, after all!
A Charger:

If you're buying an e-rig, make sure it comes with its own charger. If it has a proprietary charger, then it means that it was designed from the ground up. This can make a huge difference. Also, keep an eye out for USB-C chargers. They're more powerful than the average charger and result in way faster charging times.

A Table Mat:

Seriously. This might seem unnecessary, but it makes a world of difference. Like we said before, THC concentrates are sticky, so being able to keep a clean space is important.

A Carb Cap: If you're dabbing and you're not using a carb cap, you're missing out on an entire layer of the activity! Carb caps let you customize the airflow to your liking while dabbing. A great accessory to have in any kit is a carb cap.
Other Questions You May Ask Yourself
When you're looking for a dab rig kit, there are about a million questions that may come up. However, we're covering all of the bases on these questions to help you streamline the process.
Q: How much is a decent dab rig kit?
A: This question really comes down to the old saying, "You get what you pay for." You want something that's going to be high-quality and preferably is backed by a warranty. You want this for a few reasons. The first reason is that it makes the experience much more enjoyable. A high-quality tool tends to be easier to use, and it lasts longer. The second reason is that high-quality tools are safer. This is also a major factor in the experience. You don't want the rig to fail on you while using it!
All that said, expect to pay a few hundred for a decent dab rig kit, though their price can be much more than that. (Keep your eyes peeled for a discount code!)
Q: Are dab rigs illegal?
A: Dab rigs are legal just about everywhere you can think of. The rig itself, while designed to be used with THC, isn't something that's illegal to own. It really comes down to knowing the legality of THC where you live. Of course, a rig won't be illegal, but what you do with it might be. Know the laws for where you live as they vary, unlike tobacco use.
Q: How do you pick a good dab rig kit?
A: The most important part of picking a dab rig kit comes down to knowing your habits. You want to pick a rig that can keep up with what you're doing. It's also important that the rig is able to accommodate your THC of choice. If you end up with a rig that can only use oil, but you use leaf, then you might be out of luck.


Pick Up a SWITCH or Boost EVO Bundle Today!
When it comes to picking the best dab rig starter kit, we truly believe that we've found the secret formula with some of our best products conveniently packaged into bundles with some of our best-selling accessories, the SWITCH Bundle and the Boost EVO Bundle. Both of these bundles come with everything you need to start dabbing, and nothing you don't. It really just depends on the rig that will fit your purposes.
If you need a rig that you can carry with you on the go, shop the Boost EVO. The Boost EVO is handheld, making it handy to take with you anywhere. It's the third version of the first e-rig ever made, the Boost. Here at Dr. Dabber, we were able to take customer and community feedback to refine the Boost EVO into everything you could want in a portable dab rig starter kit!
If you're looking to do more sessions at home, be sure to shop the SWITCH. The SWITCH is a revolutionary e-rig that lets dabbers customize the dabbing experience to what suits them best, boasting tons of features including 25 different heat settings. If you're ready to take the perfect hit every time, shop the SWITCH today!