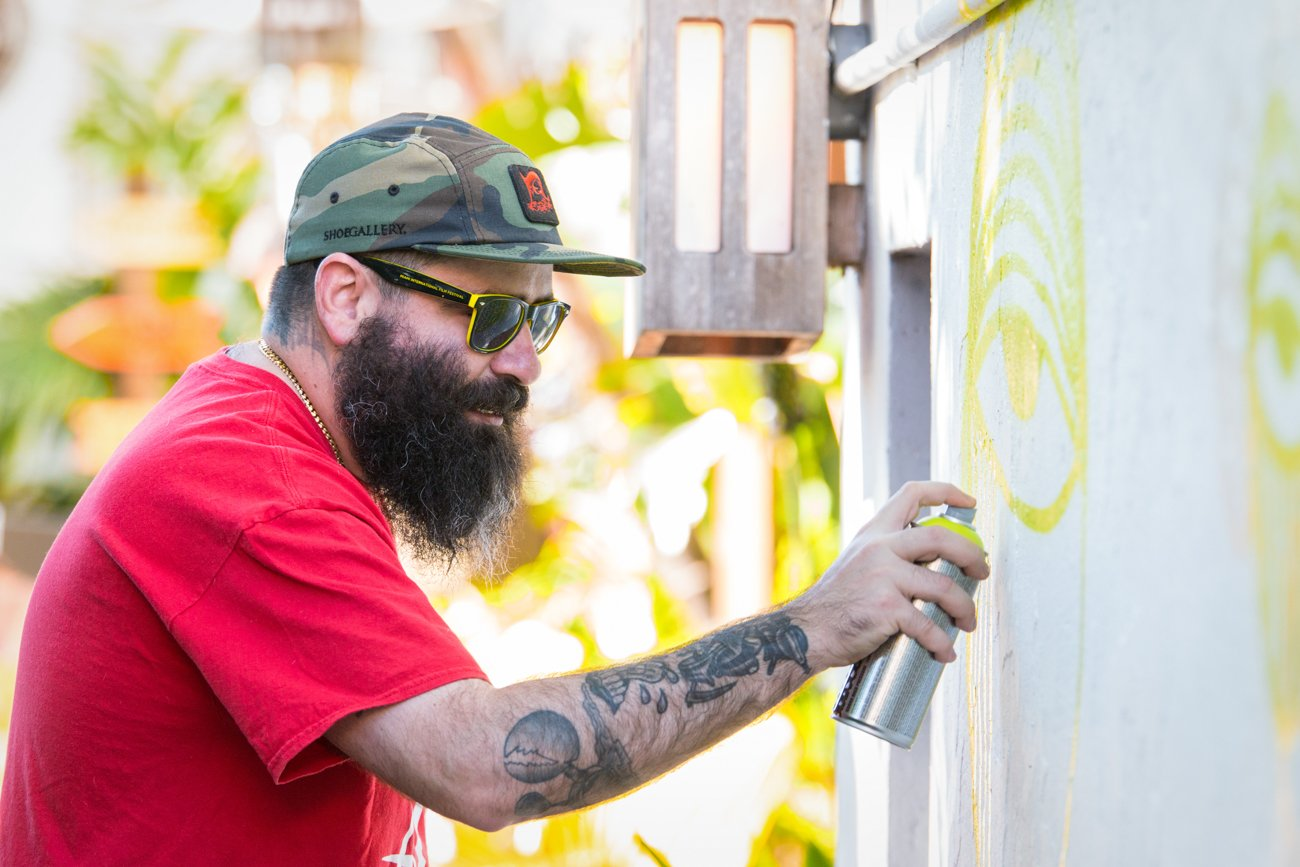 A year after we teamed up with Miami street artist, David Anasagasti, to release our Limited Edition Dr. Dabber x Ahol Sniffs Glue vaporizer pen, we headed back to the Magic City for a weekend filled with art, music, entertainment, and of course, cannabis.
A year after we teamed up with Miami street artist, David Anasagasti, to release our Limited Edition Dr. Dabber x Ahol Sniffs Glue vaporizer pen, we headed back to the Magic City for a weekend filled with art, music, entertainment, and of course, cannabis.
Perhaps better known by his street name, "Ahol Sniffs Glue" or his signature, textile-like, repeating pattern of eyeballs, Ahol has become a well-known fixture both throughout the Miami community and worldwide. "Mr. 305-Till-He-Dies" is considered a local celebrity, recognized everywhere in Miami. Local businesses acknowledge the raw talent and contribution Ahol has provided to the community. It was easy to see the outpour of love that the streets were giving right back to David (Ahol) throughout the entire weekend.
With Dr. Dabber's homebase originating in Florida, we have admired Ahol's work both artistically and within his community for awhile. So naturally, we were incredibly stoked to announce our Limited Edition collab with the artist early last year.
We spared no expense on this collaboration. Our award-winning Aurora pen comes stored in a faux spray can (doubling as a stash can) with a custom Ahol Honeymat, 3 atomizers, hat/lapel pin, charging dock, dab tool, and silicon storage container. Offered in both Heat Red, and Biscayne Blue, this collab is perfect for the dabbing art connoisseur.
Last month, Dr. Dabber flew to Miami to sponsor the AholSniffsGlue's Cyber Trap Boutique's Project Pat's Trap Attack. The event spanned three days at three locations. Venues included lounges 1306 Miami and Respectable Street. The weekend wrapped up on Sunday night with a yacht party heading out of Bayside Marketplace. Each night, performances were held by Project Pat and Otto Von Schirach among other upcoming Miami talent.
During the day, attendees were able to peruse pop-up shops filled with Ahol's art and Dr. Dabber merchandise, while also participating in giveaways and other fun events and activations.
Entering the faux moss-covered facade of 1306 Miami, one would not anticipate the Cyber Trap that lay dormant in the back. Local artist, Lamebot, had people up on their feet grooving, while the boutique began to fill with proud, eclectic Miami natives. An almost "trap convention" feeling was in the air as guests were enjoying cannabis, exclusive releases from Ahol, and a beautifully curated environment courtesy of Nastie.
Cannabis and art enthusiasts alike passionately expressed themselves in support of Ahol, adorned in the prolific "sleepy eye" we know and love. A plethora of merch laden tables ranging from hats, sandals, jackets, and even custom suit coats, were up for purchase. After only a few moments spent in this environment, you could immediately feel the sense of community that had been created. Ahol made his rounds through the venue - autographing items, posing for selfies, and getting to know attendees over cocktails and joints. Attendees showed their support as people lined up for a chance to purchase one-of-a-kind art pieces and Limited Edition Dr. Dabber x Ahol collaborations. It all came full circle how passionate individuals who believe in a common goal, thriving to create a community, are unstoppable. Believing in the community is something we feel strongly about here at Dr. Dabber. Being given the opportunity to partner with Ahol has ignited creativity for all in attendance.
Keeping the energy high, we floated around giving patrons exclusive demos of our Dr. Dabber SWITCH as Project Pat took the stage. Performing iconic tracks like "Chicken Head" and "Never Be a G", you could hear the crowd belting out lyrics in unison. Night one of the Cyber Trap Boutique wrapped up successfully in style and smelling strongly of cannabis.
Set up as an art gallery, attendees purchased exclusive pieces. With an urban tradeshow vibe, the "Trap Boutique" featured a diverse variety of Miami performers including Lamebot, Otto Von Schirach, Forealism Tribe, and Sir Mike.
At night, the pop-up shops transformed into electrified parties where music, art, and cannabis collided as fans flooded the venues.
The last day of the three-stop tour featured a yacht party sailing out of Miami's Bayside Marketplace. Cyber Trap was out in full effect giving attendees their last chance at some exclusive merchandise. Loud and lavish Miami locals treated our crew to incredible sights and unforgettable sounds of the city all weekend, making us feel like part of the family.
Upon time to board, music was heard pumping through the speakers. Inviting us onto the vessel for a safe cruise through the bay was Notorious Nastie, ushering us to enjoy ourselves in the intimate setting. Yacht Captain and Otto welcomed the line of eager party-goers into their private space for the night.
Dabs and Don Julio were flowing as we sailed around the beautiful Miami Bayside. The sounds of Otto Von Schirach encouraged people to their feet while empowering whiffs of cannabis floated through the air as Project Pat took the stage. Panoramic views and sweeping skylines treated all those lucky enough to snag a ticket on this sold out yacht party.
Project Pat had the boat rocking as we cruised along the Miami Harbor. All walks of life safely enjoyed the finest cannabis, vibing to great music, and one-of-a-kind works of art. Lyrics of classic Three 6 Mafia anthems rang aloud as our journey finally came to a close as we approached the dock.
During the eventful weekend, we were able to sit down with Ahol and pick his brain about art, cannabis, and a host of other topics. Check out the exclusive interview below:
Q: Tell us a little bit about how the idea for the Cyber Trap Takeover came to be.
A: The Cyber Trap Boutique started off as my online store. Its name was contrasting enough to be able to sell smaller collectables, shirts and limited gems. Eventually I started popping them up when the right opportunity came around. Eventually I brought Nastie the Biscayne Roach along and he's been doing these pop-ups more often and more powerfully.
Q: Who is Nastie the Biscayne Roach and how do you know one another?
A: Nastie The Biscayne Roach is a good friend of mine who has been active in Miami's nightlife scene for as long as I can remember. We have many mutual friends and have worked on other stuff, before teaming up on these last cyber traps.
Q: What inspires your work?
A: My work is inspired by my need to create. Art and the creative universe has given my life purpose and meaning. Squeezing in creative thought and time to make stuff is crucial to me. I'm inspired by anyone or anything that knows how valuable time is and refuses to let time be wasted.
Q: Do you incorporate Cannabis into your lifestyle? How would you say it helps you with your creative process?
A: I love cannabis. Been blazing, been arrested for it, stopped when I needed to piss clean and picked right back up when the coast was clear. It's my personal choice to live and use cannabis as I please. It helps me enjoy eating and making art even more. I'm currently answering these questions high as hell and I'm proud to be answering these questions even more because of it.
Q: When did you first start incorporating your signature "eye" into your art? Do you remember what inspired that design.
A: I don't remember an exact date but the eye was always a part of the characters I would draw. My work was always meticulous and 2-dimensional so I would use lines around the eyes to add depth to flat surfaces. The eye by itself came from breaking down the characters by necessity.
Space and time dictated what I would create out of my arsenal. A big space would be for a full-bodied character, smaller was just a head and if all I had was room for a letter I'd do an eye in between friends' pieces. Eventually stacking heads, then stacking eyes and just mixing and layering to keep playing and developing the flow and style.
Q: How/when did you come up with the "Ahol Sniffs Glue" moniker ?
A: It was just a name I picked (pretty shitty one but it grew on me). "Ahol" was short for asshole.
"Sniffs Glue" was a Ramones shout out for their song "Now I Wanna Sniff Some Glue".
Q: Name 3 artists that inspire you - any medium of art (I.e. music, painters/taggers, movies)
A: I draw inspiration from anyone that is passionate and dedicated to maximizing their existence on this planet. I'm inspired by my mother who passed away; for her kindness, hard-working personality, humbleness and outgoing nature to appreciate life and work hard as fuck for what you want. My friends inspire me to believe in myself and to keep applying pressure. Sometimes people don't get how hard this shit is but good friends encourage you and remind you they're there for you no matter what. Anyone hating their job but does it because being broke sucks and loses sleep to make moves to pursue their dreams and doesn't hate on the next man's success or fortune inspires me.
Q: What does "Miami Full Time" mean to you?
A: "Miami Full Time" is a Miami empowerment movement. We are Miami. We've been given this city and rock for it, from within and rep it abroad. The world does what it does and many places are great. Miami is home and my roots. Hurricane proof and I stay grounded for my city. Biscayne World was a body of work I created from people that I found interesting from riding the bus to and from work up and and down Biscayne. I did a short film with my friends with the help of Borscht. Peep it. Look up "biscayne world" on Vimeo. It's a blessing.
Q: Do you have any upcoming news/collabs that we should know about?
A: Hopefully keep making history with you all. Dr. Dabber was one of the coolest collabs I've done and you all really know how to treat artists right. I got a show in LA March 23rd at Superchief. Another jam cyber trap in Hialeah March 9th with Otto and Nastie with Trick Daddy. Another flip-flop collab with Rider Sandals, mural festivals, etc. Just a million things. And I love it!
Q: Any last words you'd like to add?
A: Dr. Dabber Rules! Salute to Otto Von Schirach, Nastie the Biscayne Roach and the Bermuda Triangle Family. The time is always Miami Full Time and the gang is KBT!!!!
Big Thank You to everyone coming together to make this possible: Ahol, Nastie, Otto, Project Pat, Lamebot, everyone at Dr. Dabber, and all you wonderful people we met along the way making this possible. Be on the lookout for our crew in a city near you!