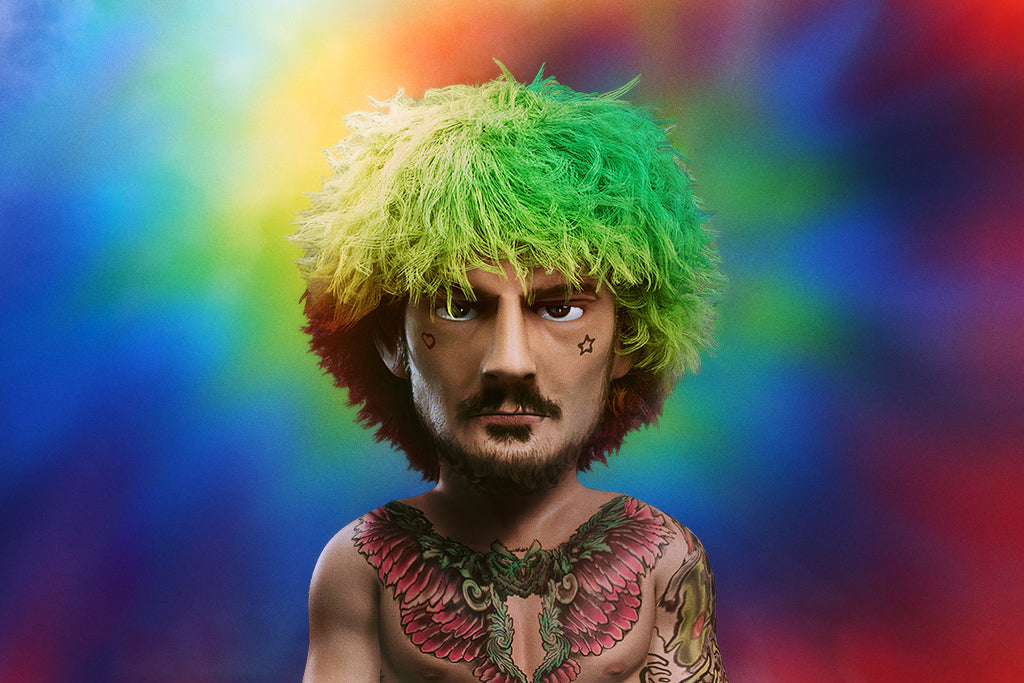 Last month, we sat down with the UFC superstar and picked his brain on everything from the world of MMA, to our new product collab. Keep reading for a deep dive on "Sugar" Sean O'Malley.
Last month, we announced the official members of our UFC team, boasting a powerhouse roster of athletes. Featuring some of the highest-level fighters in the sport, we're proud to be the first active cannabis brand to debut a professional team with the largest MMA company in the world.
Included in the Dr. Dabber UFC team roster are "Sugar" Sean O'Malley, Casey Kenney, Tim Elliot, Gillian Robertson, Gina Mazany, Brandon Royval, Vinc Pichel, Brent Primus, Vince Cachero, and Alex Hernandez.
We are always pushing to be the most effective, and safest way to smoke cannabis through constant research and development. Teaming up with fighters who use cannabis for recovery highlights the trust they have for our products as professional athletes. It's a huge milestone to be the first cannabis company in the field of athletic sponsorships.


In honor of our partnership with UFC legend, Sean O'Malley, we introduced our very first Limited Edition Boost EVO collab on Oil Day. The co-branded release features a vibrant, tie dye body accompanied by a Limited Edition Sugar Sean Carrying Case and Glass Attachment. For years, we've heard our customers' requests for a tie dye unit, so with the help of Sean O'Malley himself, we're stoked to introduce our first ever limited edition tie dye colorway. This release isn't just limited edition–each Boost EVO: Sugar Sean Edition is hand-dipped, therefore no two units are exactly alike.


Aside from the product collab, we can barely contain our excitement about being the first ever cannabis brand to sponsor a team of professional athletes. This is big news for both the cannabis industry as well as the mixed martial arts industry, but we're not stopping there. Dr. Dabber is also the official sponsor of the High Rollerz BJJ Tournament, where competitors smoke weed before competing. As the only cannabis-infused athletic event on the planet, athletes fight for the ultimate prize of a full pound of weed.


At our 710 Launch Party, where we also celebrated Sean's UFC win against Kris Moutinho, we sat down with the UFC superstar and picked his brain on everything from the world of MMA, to cannabis use among athletes, to our new product collab. Keep reading for a deep dive on "Sugar" Sean O'Malley.
The Interview
How did you get into training for the UFC? Have you always had a passion for mixed martial arts?
I started getting into MMA through boxing. My dad was tight with an ex-golden glove boxer, Ray Moore and he gave me a chance. I fell in love instantly.


How would you say cannabis helps you during your recovery process?
Cannabis helps with not only physical pain derived from training and fights, but mental pain too, as it takes away the stress that comes with it all.


Where did the idea to change your hair color before every fight stem from? Is there any color you haven't done yet or wouldn't dye your hair?
My wife, Dany is an amazing hairstylist and we work together on creating the styles and colors for my fights. You will have to see in the future for next colors!


When you're not training for your next match, what's your favorite thing to do?
I love to game and get on Twitch with the squad. Also, I have a beautiful baby daughter named Elena who takes up a lot of my time when I'm not in the gym.


Tell us a little bit about the
Boost EVO: Sugar Sean Edition
. What inspired the tie dye colorway?
The tie-dye hair is what really got people to recognize me other than the knockouts and wins. It goes hand-in-hand with the cannabis vibe and my own.


If you hadn't become a professional athlete, what do you think your job would have been?
There was never another option.


What's your favorite strain? Oil or flower?
Anything that tastes good on the terp side, love classic GMO. Exotic on the flower side.


Favorite cheat meal (or when you get the munchies)?
I eat everything, but Dany cooks me most meals even when I'm not in training.


What's the hardest part of being a professional athlete?
The training that goes into each fight. Everyone has a comment when it comes to fighters, but very few people can live this life at the capacity us fighters do.


What's your favorite video game of all time?
Call of Duty… check me on Twitch!!!